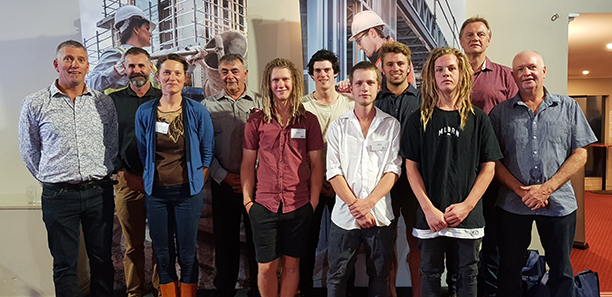 Carpentry students, teachers and industry representative from left; Stephen Cordell (Merlot Homes), Philip Smith (teacher), Jenneke Kijlstra-Shone, Ken Roberts (teacher), Tyler Hotchkin, Mark Carley, Rees Venn, Alex Crowe, Hugh McHutchison, Alistair Ford (teacher) and Colin MacLean (teacher).
Federation Training apprentices have been honoured with a number of awards at the 2019 Master Builders Apprentice of the Year Awards.
The annual awards, held in Traralgon last Thursday evening, applaud the outstanding achievements of Gippsland apprentices in the building and construction industry.
Overall, 26 TAFE students throughout Gippsland's local TAFE shared the honours in various categories with the Apprentice of the Year Chairman's Award going to Jack Scott, a 4th Year Apprentice Carpenter at Yallourn and Jackson Harry, a 4th year Apprentice Carpenter from Leongatha also studying at Yallourn, who was awarded the Employer Nominated Apprentice of the Year Award.
Both Jack and Jackson will head to Crown Casino on the 9 May as Gippsland representatives and finalists in the National MBA Awards. They will be accompanied by Ben Austin, nominated by AGA Apprenticeships Plus, as the third Gippsland representative and Apprentice of the Year winner.
Carpentry apprentices at Federation Training were strongly represented with 15 students awarded Certificates of Merit along with eight in Painting & Decorating and three more in Bricklaying.
Chief Executive Officer, Mr Grant Radford, commended Federation Training apprentices and their teachers for their outstanding achievements over the past year.
"Congratulations to our TAFE teachers in achieving so many nominations and our students for gaining due reward at the MBA Apprentice of the Year Awards," Mr Radford said.
"It is an absolute credit that Federation Training was so well represented and to achieve two regional representatives going forward to the state awards deserves our sincere congratulations.
"It is a strong endorsement of the excellent work and passion that our staff and students have here at Gippsland's local TAFE and I'm delighted it was such a successful evening for our students, their family and friends."
TAFE students from across Gippsland campuses shared in the honours. They are as follows:
MAJOR AWARDS
Apprentice of the Year Chairman's Award – Jack Scott - Carpentry Yallourn
Gippsland Employer Nominated Apprentice of the Year Award – Jackson Harry - Carpentry Yallourn
Certificates of Merit - Carpentry
Category - Best in Year
Mark Carley (1st Year - Bairnsdale)
Harry Gibbs (1st Year - Bairnsdale)
Tyler Hotchkin (1st Year - Yallourn)
Thomas Kelly (1st Year - Yallourn)
Jenneke Kijlstra-Shone (1st Year - Yallourn)
Alex Kubale (1st Year - Yallourn)
Justin Axford (2nd Year - Yallourn)
Alex Crowe (2nd Year - Bairnsdale)
Nicholas Mills (2nd Year - Bairnsdale)
Daren Wood (2nd Year - Bairnsdale)
Campbell Heath (3rd Year - Bairnsdale)
Troy Lindrea (3rd Year - Bairnsdale)
Tim Lloyd (3rd Year - Bairnsdale)
Joel McNamara (3rd Year - Bairnsdale)
Rees Venn (3rd Year - Yallourn)
Category - Best Over Entire Apprenticeship
Troy Lindrea
Tim Lloyd
Joel McNamara
Bailey Wright
Certificates of Merit – Bricklaying/Blocklaying
Category - Best in Year
Hugh McHutchison (1st Year - Yallourn)
James Shingles (3rd Year - Yallourn)
Shannon Arthur (3rd Year - Yallourn)
Category - Best Over Entire Apprenticeship
Shannon Arthur
Certificates of Merit – Painting & Decorating
Category - Best in Year
Anthony Dowling (Pre-App - Yallourn)
Kyros Mostert (Pre-App - Yallourn)
Kristen Coster (1st Year - Yallourn)
Steele Turnbull (1st Year - Yallourn)
Michael Beane (2nd Year - Yallourn
Alex Bowman (2nd Year - Yallourn)
Mathew Galante-Burdett (3rd Year - Yallourn)
Alex Hood (4th Year - Yallourn)
Category - Best Over Entire Apprenticeship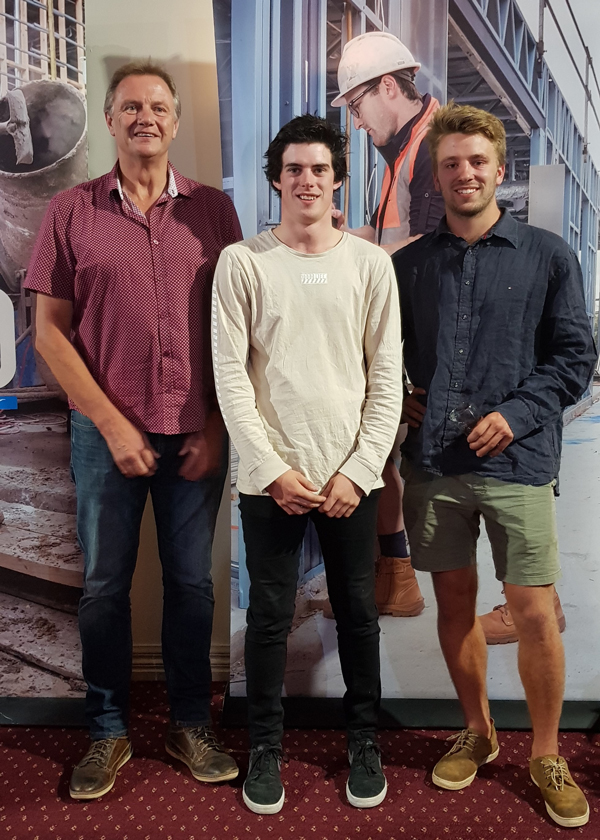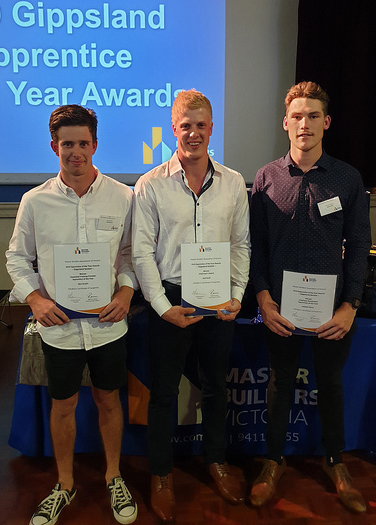 LEFT: Bairnsdale-based teacher Alister Ford with Carpentry students Mark Carley and Alex Crowe. RIGHT: Ben Austin, Jack Scott and Jackson Harry took out top honours at the Gippsland Master Builders Awards. Pic courtesy MBA
Photos of all Federation Training award winners can be found at:
https://www.flickr.com/photos/mbav/sets/72157703562956022/
---
Media Contact:
Neil Lawson - Communications Coordinator
Phone - 0418 425 804
Email - n.lawson@federationtraining.edu.au