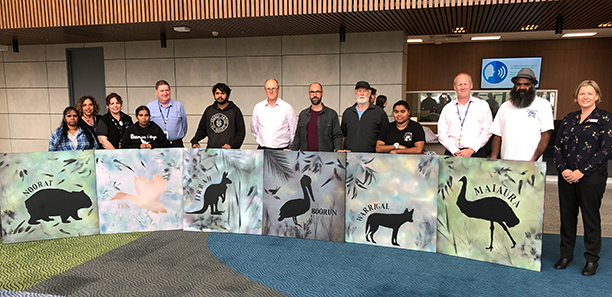 Six indigenous paintings by local TAFE Koorie students now sit proudly in the wards of the Latrobe Regional Hospital (LRH) near Traralgon.
The students from Federation Training's Morwell Koorie Unit created the series of paintings with a uniquely indigenous theme, after an invitation from LRH's Koorie Liaison officers, Gail Mounsey and Mark Munich.
TAFE Koorie Unit teacher, Peter Corser, said the student artists were invited to produce the one metre by one metre paintings for the hospital wards with local indigenous themes.
"Our artists Ric Harrison, Leticia Dalton, Norman Harrison, Melissa Fenton and Ashleigh Dalton were very excited to participate in this community project," Peter said.
"Their paintings depict indigenous animals with their Gunnai/Kurnai names and indigenous foliage incorporated into the background. The central motif is of Tuk the Musk Duck, the totem of the ancestral mother of the Gunnai/Kurnai people."
With the assistance of Morwell campus Koorie Liaison Officer, Paula Morrison, and teachers Jeremy Kasper and Peter Corser, students gained the skills to produce a beautiful series of paintings.
Peter said the students were delighted their paintings will adorn three wards at LRH including the Thomson Ward for children.
"It is hoped that these paintings will help towards creating community and cultural education through showcasing some Gunnai/Kurnai language in the artwork," Peter said.
The official handover took place at LRH on Thursday 14th March with TAFE students and teaching staff presenting the paintings to local hospital representatives following a Welcome to Country ceremony.
---
Media Contact:
Neil Lawson - Communications Coordinator
Phone - 0418 425 804
Email - n.lawson@federationtraining.edu.au