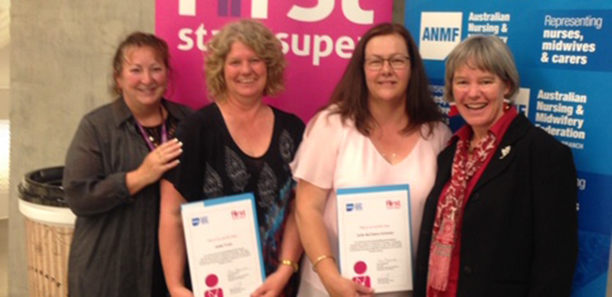 Two Diploma of Nursing students from Federation Training were successful in the Australian Nursing and Midwifery Federation (AMNF) awards held in Melbourne late last year.
Warragul's Jodie Frost and Julie Schnoor from Leongatha received their awards at a function in Melbourne in December.
Federation Training's Head of Department for Health Studies, Ms Michelle Mason-Woods, said the awards are offered annually to graduating nurses.
"These annual ANMF awards are not just about academic results, but about recognising students who have found the course challenging for reasons other than the course work," Ms Mason-Woods said.
During 2018, Federation Training Health Studies teachers nominated Jodie and Julie for an ANMF award, and Ms Mason Wood was delighted when both students were successful.
"Jodie and Julie have strived to achieve their best, supported others, received good feedback from placement and modelled behaviour expected of them as student nurses," Ms Mason Woods said.
"Both students were very well liked by their peers, and they did not hesitate to support other students within the class to achieve their goals."
Ms Mason Woods said the students had overcome some all-too-familiar challenges during their studies.
"Jodie and Julie are both mature-aged students who found the study challenging because neither had studied for many years. Julie has teenage children and was running a farm whilst completing her Diploma while Jodie owns and runs a swim school and continued to do this whilst completing her studies," Ms Mason Woods said.
"We are pleased to say that Julie has obtained work as an Enrolled Nurse at the Foster Hospital and is finding the environment very supportive. Jodie is currently awaiting her nursing registration and intends to apply for work shortly."
For more information about TAFE Nursing and other TAFE courses, call 1300 133 717 today.
---
Media Contact:
Neil Lawson - Communications Coordinator
Phone - 0418 425 804
Email - n.lawson@federationtraining.edu.au