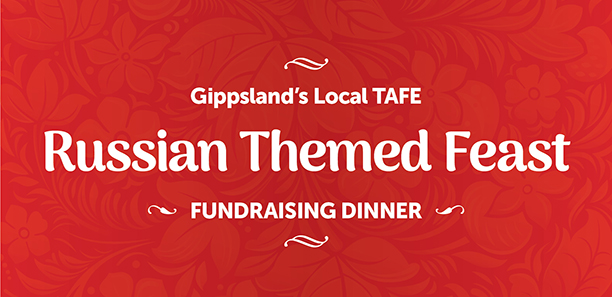 Budding chefs from Gippsland's local TAFE are putting their culinary talents on the line to raise funds for a major international chef's congress in July 2020.
The Worlds Chefs Congress is the largest bi-annual event for international chefs and in 2020, the event will be held in St Petersburg, Russia from 28 – 31 July 2020.
For TAFE students across Gippsland campuses, it could be a trip of a lifetime and TAFE Culinary Studies teacher, Kellie Fraser, said the fundraising dinner will have a distinctly Russian theme.
"It's a five-course Russian Family Feast and we hope to see as many local community members come along and enjoy some great international cuisine our students."
Federation Training's Head of Department, Service Industries, Mr Gordon Talty, also commended the event saying the opportunity to attend the World Chefs Congress will be highly sought after.
"Our Institute is very hopeful that some of our cookery students and teacher staff members will get an opportunity to represent their country and our TAFE Institute in Russia next year," Mr Talty said.
"The students and our staff are to be commended for staging this unique fundraising event and we're asking the Latrobe Valley community in particular to support our talented TAFE students at our Morwell training restaurant."
The Russian Family Feast five course meal is on Monday 13 May 2019 from 6.00pm and the evening will also feature auctions and door prizes.
Space is limited to 80 people, so bookings are highly recommended. Call 5662 6802 to make your booking or send an email to: waratahreservations@federationtraining.edu.au
---
Media Contact:
Neil Lawson - Communications Coordinator
Phone - 0418 425 804
Email - n.lawson@federationtraining.edu.au