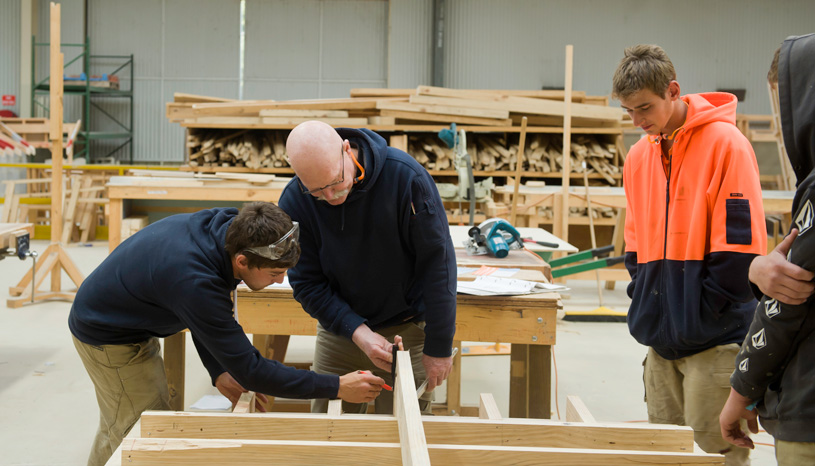 What is VET?
VET (Vocational Education and Training) is hands-on, practical training that provides students with work-ready skills and knowledge that can help them obtain their employment or further education goals.
What is VET Delivered to Secondary Students?
VET Delivered to Secondary Students (VET DSS) programs are nationally recognised VET qualifications undertaken by senior secondary student as part of their Victorian Certificate of Education (VCE) or the Victorian Certificate of Applied Learning (VCAL). They provide a vocationally-oriented program of studies leading to a secondary school certificate. VET DSS is designed to expand opportunities and pathways for senior secondary students to improve post compulsory educational outcomes as well as address the employment needs of industry in Victoria. These programs are typically delivered in partnerships between schools, industry and training providers, and often include opportunities for students to participate in workplace learning.

Does TAFE Gippsland offer VET Delivered to Secondary Students?
In conjunction with a number of secondary schools, TAFE Gippsland offers the VET Delivered to Secondary Students (VET DSS) program at locations throughout Gippsland.
VET DSS is a great option for students who are considering further study after secondary school. Not only do students develop new skills and knowledge, but they may also earn credit towards a nationally recognised qualification.
This qualification can give students a great head start, potentially increasing their employability by developing real work skills and providing pathways into further education. Students completing a VET subject at school have the option of going onto a TAFE Gippsland Certificate I-IV or Diploma.
A number of VET programs offered in Victoria provide a study score that can be used as one of the primary four VCE subjects when calculating the Australian Tertiary Admission Rank (ATAR).

How long does it take?
Most VET DSS students attend TAFE for one day a week throughout the academic year, with VET DSS qualifications taking two years to complete.
Students start each year in February and complete their study in October/November, in order to give them time to prepare for final exams.

What do I do now?
Enrolments for VET DSS programs must be made via your secondary school. Your career's advisor, VET DSS Coordinator or VCAL Coordinator will have more information and can enrol you in the course of your choice.
Choices for VET DSS programs are usually made in September, but check with your school for more details.