Bairnsdale Campus
A major education facility servicing students throughout East Gippsland, refurbished 4 years ago, the Bairnsdale campus dates back to 1890 when it was home to the Bairnsdale District School of Mines. One hundred and 20 years later, it is delivering education to the region with a focus on local needs and delivering pathways for further education and jobs.
Practical learning facilities at the OakTree restaurant, part of the Bairnsdale Campus includes a fully functional kitchen and restaurant, enabling students to practise their new found skills with customers. Similarly, the nursing facilities ensure that students are confident in practical skills before commencing work experience at regional hospitals and the hair and beauty salon enables students to practise on real customers, teaching them the customer service side of their trade as well as the practical.
With the largest indigenous population in regional Victoria, Bairnsdale continues to achieve through the Mumgu-Dhal Tyama-Tiyt program, which re-engages indigenous students with their culture, at the same time creating pathways to further opportunities.
Also available at the Bairnsdale Campus are Business, Early Childhood Education and Care, Community Services, Aged Care and General Education.
Five minutes up the road is the Trade Centre, a complete workshop for students learning automotive, metal fabrication, building and carpentry.
The newest part of the campus is the Riverside Hub providing a quiet space for students to study as well as facilities for video conferencing and conference facilities for up to 150 people.
What's on offer at Bairnsdale campuses?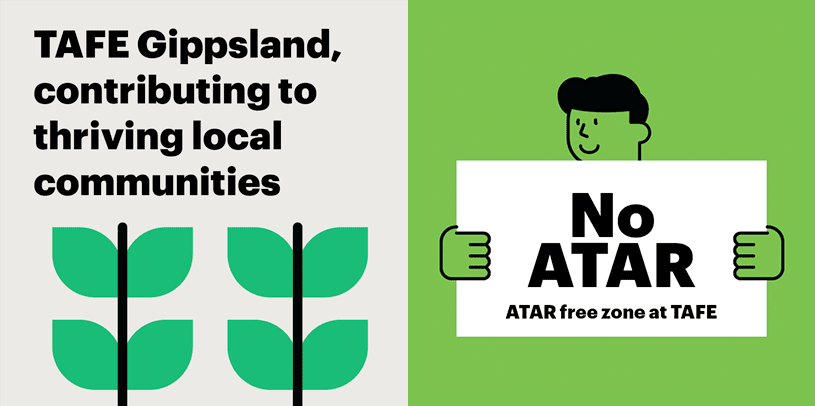 Maps:
Bairnsdale Main Campus | Bairnsdale Trade Centre
Bairnsdale Main Campus: 48 Main Street, Bairnsdale, 3875
Bairnsdale Trade Centre: 96 Victoria Street, Bairnsdale VIC 3875
Phone 1300 133 717
Customer Service Centre Opening Hours
Monday to Friday: 8.30am - 4.30pm