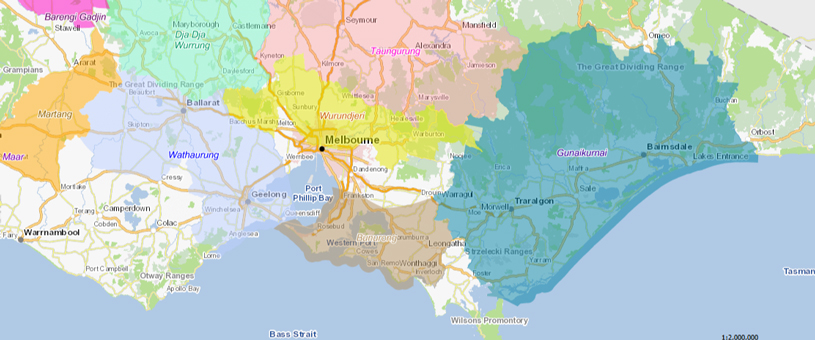 We respectfully acknowledge the Gunaikurnai and Bunurong People, and their Elders past and present, who are the Traditional Owners of the land on which TAFE Gippsland's campuses are located.
Gunaikurnai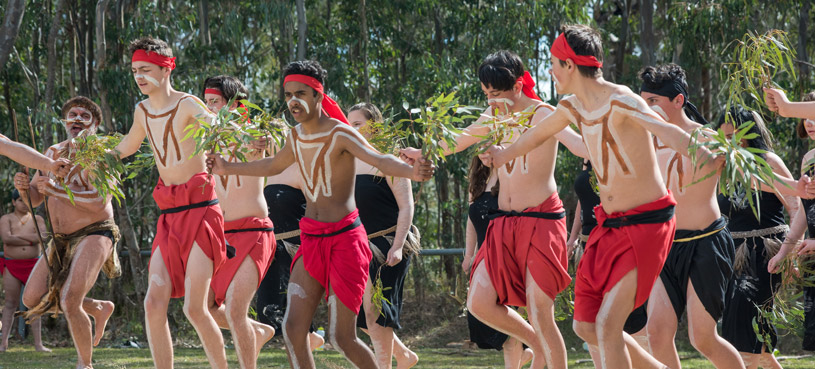 We are Gunaikurnai, the First People of our Country. We are the Traditional Custodians over approximately 1.33 million hectares in Gippsland – extending from west Gippsland near Warragul, east to the Snowy River, and north to the Great Dividing Range, and including 200 metres of offshore sea territory.
There are five clans that make up the Gunaikurnai community:
The Brabralung people of Central Gippsland
The Brayakaulung people around the current site of Sale
The Brataualung people in South Gippsland
The Tatungalung people near Lakes Entrance on the coast
The Krautungalung people near the Snowy river.
As Gunaikurnai, we see Warruk (our land), Yarnda (our waters), Watpootjan (air) and every living thing, as one. All things come from Warruk, Yarnda, Watpootjan and they are the spiritual life-giving forces, providing us with resources and forming the basis of our cultural practices. We have a cultural responsibility to ensure that all of it is looked after.
Our Country possesses a rich Aboriginal culture. Our heritage is strong across our landscape, and Aboriginal cultural sites and artefacts can be found along our songlines, trade routes, mountain ridges and waterways. They remind us about the ways of our ancestors and show our close and continuing connection to Country.
We welcome you to Gunaikurnai Country.
The Gunaikurnai Land and Waters Aboriginal Corporation (GLaWAC is the Registered Aboriginal Party that represents the Gunaikurnai people and their aspirations for Native Title, cultural heritage, land, water and natural resource management.
Further information about GLaWAC visit www.gunaikurnai.org
Bunurong Land Council Aboriginal Corporation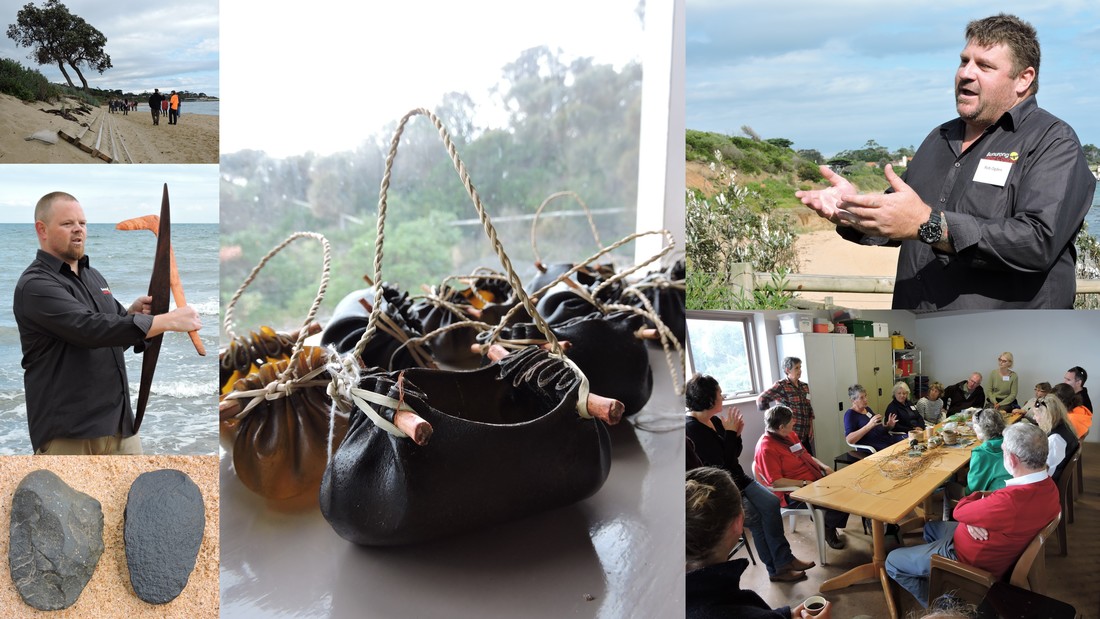 The Bunurong Land Council Aboriginal Corporation is a large and inclusive organisation that represents Bunurong/Boon Wurrung people, their culture and heritage. We provide a unified voice for our 200 members and support our people's cultural goals and aspirations.
We are based in Frankston South, the gateway to the Mornington Peninsula. Over 1,000 generations of our people have been here before us. We work with schools, universities, Government, Shire Councils, developers, archaeologists, friend's groups, artists, filmmakers, the local community and others in a range of ways to ultimately protect and promote Bunurong/Boon Wurrung culture and heritage.
Over the past 35,000 years our people have adapted to a range of significant changes within their Country. Our stories of the Bay flooding with water, asteroid impacts near Cranbourne, Arthurs Seat once being an Island, volcanic activity in the western suburbs, the great floods, fires and earthquakes all speak of such events. We continue to adapt today reaching high levels of corporate governance and expanding our enterprises. We are currently developing a 'Caring for Country' team, which will service the Mornington Peninsula, Westernport Bay and Bass Coast areas, working mostly on crown land within natural resource management. This is an important step in getting our people back out on Country, caring for and connecting with their land, as our ancestors have done before us.
All of our Country is highly significant, every square inch, every rock, every leaf, every dune and every artefact. Our ancestors collected an ocean of information about the Peninsula, on every living thing here, every tree, every animal and the key to the complex balance of all things, which our people had managed to evolve and sustain. People today are still learning of the complexities of our ancestors.
The coastline of the Peninsula contains layers and layers of burnt shell (kitchen middens). Some of these layers have gaps of over 1,000 years between them, where our people eventually sat directly over the same place again, over 1,000 years later, to do the same thing, make fire, cook food, eat together and tell stories. The whole region, from Point Nepean to the Sisters and Arthurs Seat to Cape Schanck are all connected by a thousand generations worth of tradition, story and song.
Some of our sites on the Peninsula were created at a time when our people could look back over the bay to see a grassy plain with the Yarra River winding its way out to sea over a beautiful waterfall.
The connection we have to this land as a result of this long history is not easy to quantify into words, which usually barely begin to scratch the surface, making all attempts to describe its significance feel understated; this is no exception.
Further information about Bunurong, visit www.bunuronglc.org
---
Statement regarding the Uluru Statement from
the Heart and the Voice to Parliament
TAFE Gippsland Board's Statement regarding the Uluru Statement from the Heart and the Voice to Parliament referendum – Endorsed version.
The TAFE Gippsland Board, after careful consideration and discussion, supports all elements of the Uluru Statement from the Heart.
The TAFE Gippsland Board has not consulted with staff, students or other stakeholders and recognises that there will be differing views. The Board's aim is to facilitate constructive discussion, with education and engagement as our focus.
The TAFE Gippsland Board will not be advising staff, students and other stakeholders how to vote during the referendum campaign, as every voting Australian will determine their own position.
The TAFE Gippsland Board welcomes the national and regional conversations currently underway across our nation regarding the "Voice to Parliament" and encourages respect, integrity, and honesty in all conversations during this referendum campaign.