Sale Campuses
Sale campus encompasses a number of campuses spread throughout the town delivering a variety of courses.
The main Port of Sale campus situated near the picturesque Port of Sale and walking distance to Sale's central business district, TAFE Gippsland's brand new Campus is centrally located and fully accessible for the Wellington Shire community.
New courses also will be offered at Port of Sale, with vocational training in Health to be added to Engineering, Carpentry, Automotive, Early Childhood Education and Care and Hair and Beauty.
To accommodate the growth in demand for TAFE training in the Wellington Shire and to support the new Port of Sale campus, TAFE Gippsland is retaining its niche Gtec campus on Cobains Road to provide a specialised learning experience to VCAL students. We have also upgraded and expanded our Flexible Learning Centre (FLC), in the heart of Sale's CBD.
The Port of Sale campus will become the newest campus for TAFE Gippsland and the flagship campus in the Wellington Shire, supported by Gtec and the FLC.
What's on offer at Port of Sale?
What's on offer at Sale (FLC)?
What's on offer at Sale (Gtec)?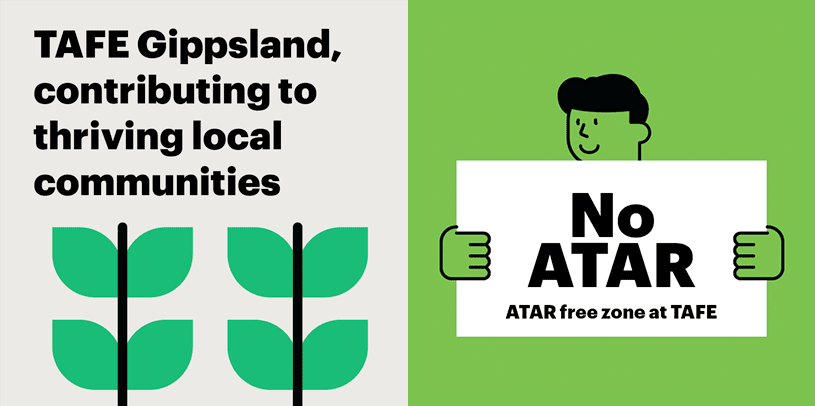 Maps:
Port of Sale | Sale (FLC) | Sale (Gtec)
Port of Sale
Location: 2–28 Punt Lane, Sale, 3850
Customer Service Centre Opening Hours
Monday to Friday: 8.00am - 4.30pm
Sale Flexible Learning Centre (FLC)
Location: 75 Desailly Street, Sale, 3850
Customer Service Centre Opening Hours
Monday to Friday: 8.30am - 4.30pm
Sale (Gtec)
Location: 37 Cobains Road, Sale, 3850
Customer Service Centre Opening Hours
Monday to Friday: 8.30am - 5.00pm
Phone: 1300 133 717