Sale Campuses
Sale campus encompasses a number of campuses spread throughout the town delivering a variety of courses.
The main campus, Fulham is located on the Princes Hwy 10 minutes outside of Sale. With students travelling from throughout Gippsland to learn Photoimaging, the campus also delivers Nursing, Community Services, Aged Care and Horticulture.
Apprentices complete their training at Fulham in trades including Aviation, Automotive, Building and Construction, Hospitality and Hairdressing.
Also at the Fulham campus is our Work Safety Centre which delivers industry specific training courses around occupational health and safety and programs developed for people wishing to enter the building industry.
Located at the other end of Sale, GTec is a specifically designed adult learning environment for Year 11 and 12 students who wish to start a school based apprenticeship or traineeship while completing their VCE/VCAL studies, whilst in the centre of town is the Flexible Learning Centre which specialises in flexible and 'distance' learning.
What's on offer at Sale (Fulham)?
What's on offer at Sale (Gtec)?
What's on offer at Sale (FLC)?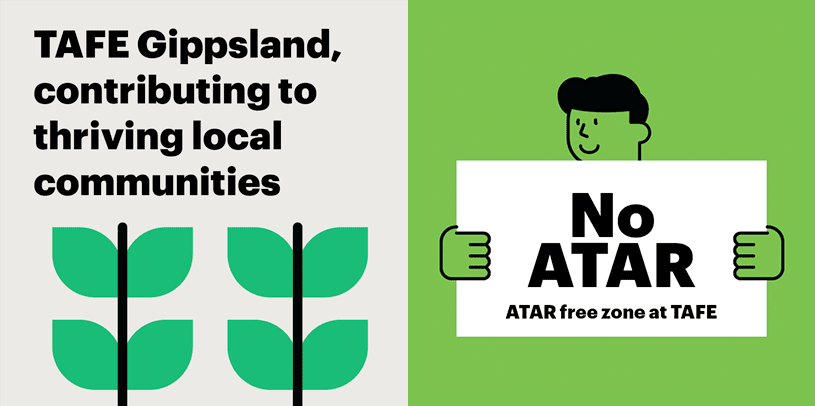 Maps:
Sale (Gtec) | Sale (Fulham) | Sale (FLC)
Flexible Learning Centre
Location: 75 Desailly Street, Sale, 3850
Customer Service Centre Opening Hours
Monday to Friday: 8.30am - 4.30pm
Fulham
Location: 19 Lyon Crescent, Fulham, 3851
Customer Service Centre Opening Hours
Monday to Friday: 8.30am - 4.30pm
Gtec
Location: 37 Cobains Road, Sale, 3850
Customer Service Centre Opening Hours
Monday to Friday: 8.30am - 5.00pm
Phone: 1300 133 717