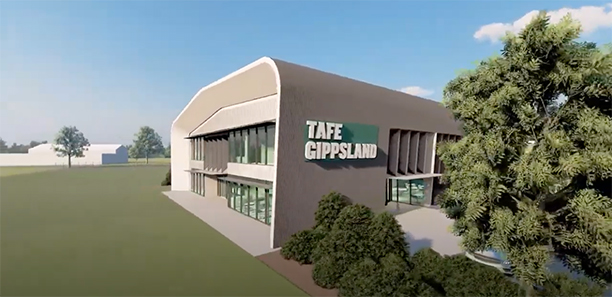 TAFE Gippsland students in Wellington Shire are one-step closer to a new Port of Sale campus with the Victorian Government releasing further details of the $25 million capital development project.
Minister for Training & Skills, the Hon Gayle Tierney officially launched the Port of Sale project with the release of a fly-through video animation highlighting how TAFE Gippsland's new central Sale campus will look once completed.
"The Port of Sale development is another great example of the work we're doing to develop cutting-edge training solutions to meet the local needs of students and industry as they adapt in a changing economy," Minister Tierney said.
TAFE Gippsland's Chief Executive Grant Radford welcomed the announcement saying the new state-of-the-art facility would deliver a quality vocational education experience and training facilities for a range of industry and academic disciplines.
"Our Port of Sale campus will meet local industry and community needs with its central location, while also ensuring our students and staff have access to the facilities they deserve," Mr Radford said.
"The campus will consolidate programs currently offered at Fulham in one central location, with the exception of Aeroskills, which stays to service the growing aviation industry at West Sale Airport and to support the capital investment by Wellington Shire Council," Mr Radford said.
Mr Radford also said that the current and expected growth in vocational training in Wellington Shire is great news for Sale and the surrounding community.
"Not only will we deliver an amazing new campus at the Port of Sale, the current training course growth in our Sale region requires the retention of our centrally-located Flexible Learning Centre and our Gtec campus which delivers VCE and VCAL studies to students in a supportive niche location," Mr Radford said.
TAFE Gippsland and the Victorian Government will announce the preferred builder within months and construction work on Sale's new TAFE campus will begin in September 2020.
The Port of Sale campus will be completed in late 2021 with students commencing in 2022The Port of Sale campus will be completed in late 2021 with students commencing in 2022.
The Port of Sale fly-through animation can viewed below:
---
For all media-related enquiries, call;
Neil Lawson - Communications Coordinator, TAFE Gippsland
Phone - 0419 425 804
Email - nlawson@tafegippsland.edu.au or news@tafegippsland.edu.au