Choosing to do an Early Childhood Education and Care course with us will set you on a fantastic career path and open up a number of options for your future.
As a respected training institute, your qualification will enable you to work in schools and other educational institutions across the country. Other employment prospects include work as a nanny, or work in program planning and management.
So, whether you're looking to start your career from scratch, or add new skills to your current ones, there is an Early Childhood Education course that will help you achieve your career goals and pursue your passions.
Get started today by checking out each course in more detail below!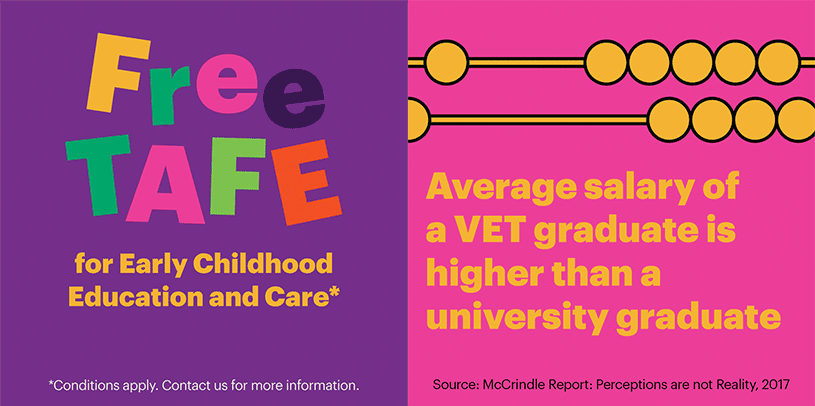 5 invaluable qualities of those who work with children
1. Patience and a sense of humour – these two things help keep the classroom environment balanced and in order, as well as helping you keep your cool under pressure.
2. Respect for diversity and differences – you should be willing to work with varied learning styles and with varied cultures so students leave having achieved learning objectives.
3. Creativity and flexibility – being able to consistently make learning fun and exciting for your students will add to the satisfaction of your job.
4. Strong communications skills – being able to break complex subjects into easily digestible pieces is invaluable.
5. Passion! – your enthusiasm should reach beyond playground fun and focus on helping young children meet developmental milestones.
Hesitant about studying a trade at TAFE?
Leave your details below and we'll be in touch: