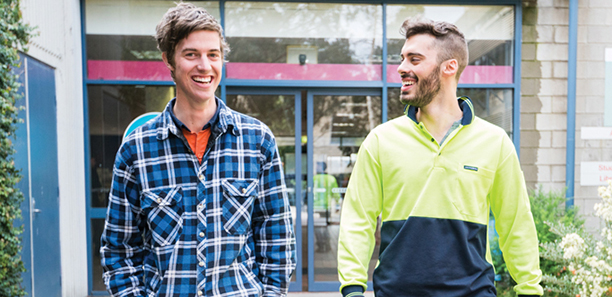 We believe that education changes people's lives and we pride ourselves of giving students the relevant skills to find a career they'll love.
Here are some reasons why TAFE is a viable option:
You can study close to home, where parking is free. Put your gold coins away because there's not a parking meter in sight at any of our campuses.
Earn while you learn. Studying an apprenticeship or a traineeship allows you to earn an income while you study.
You'll be more employable. TAFE allows you to develop non-technical skills including communication, teamwork and problem solving. All these skills can be applied across different jobs and industries throughout your career.
Studying at TAFE can be cost effective so you can pay off over time. Like uni, TAFE offers payment plans which means you can pay your fees off while you study.
It's a flexibly way to learn. Study online, part-time, full-time, face-to-face, online or in the workplace. Whatever your circumstances, TAFE has a solution for you.
You'll be taught by people who really know their stuff – your teachers will have current industry experience and classes are small so you can get to know the people you're studying with.
With campuses scattered throughout Gippsland, you won't have to leave home and move to the city if you don't want to.
Lastly, you don't need an ATAR to study at TAFE. Yep, that's right, you read that correctly. We won't ask and you don't need to tell because you don't need an ATAR to study at TAFE.
We could sit here all day and toot our own horn. Or, you could come and find out for yourself!
Take some time to browse our website to find a course that suits you and your career goals.