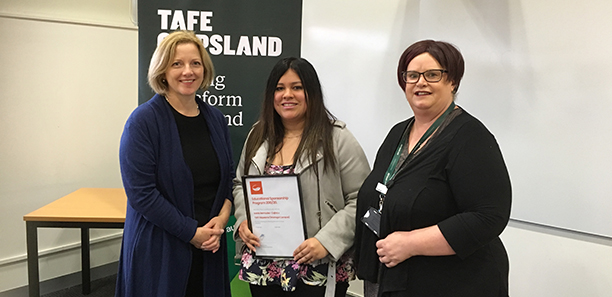 A Warragul-based TAFE student is now the proud recipient of an Education Sponsorship courtesy of the local Shire Council.
TAFE Gippsland student, Ivania Bermudez- Cajina, has received an Educational Sponsorship award from Baw Baw Shire Council in recognition and acknowledgment of the fine effort that she has contributed during her course at TAFE Gippsland's Warragul campus in 2019. Ivania received a monetary award of $250 along with a certificate for her efforts.
Foundation Studies teacher at TAFE Gippsland, Ms Gabriella Durand, said the Institute is very proud of Ivania's efforts.
"Ivania was recognised for demonstrating resilience, passion and determination to complete her Certificate I in Skills for Vocational Pathways at the Warragul Campus," Ms Durand said
"Ivania overcome some obstacles early in the year and returned to TAFE to do the Foundation Studies course; she used the time between courses to research and develop her own business and is looking at possibility of a Business course in the future."
The Education Sponsorship presentation was held at TAFE Gippsland's Warragul campus with local Councillor, Mikaela Power, joining Foundation Studies Program Manager, Sharon Archer, to present Ivania with her award.
Gabrielle Durand said Ivania was also well supported by her student colleagues that completed the course with her this year.
"It was wonderful to see the support Ivania received from fellow Foundation students and her family of course," Ms Durand said.
"On behalf of our TAFE Gippsland team, we would like to warmly congratulate Ivania on this great achievement."
---
For all media-related enquiries, call;
Neil Lawson - Communications Coordinator, TAFE Gippsland
Phone - 0419 425 804
Email - nlawson@tafegippsland.edu.au or news@tafegippsland.edu.au