If you're passionate about animals and are looking to learn new skills or build on existing ones, take the first steps towards a rewarding and stimulating career in the field of Animal Studies or Veterinary Nursing.
You'll immerse yourself in your passions and chase your career goals as you open doors to the many career options available to you when you complete these courses - including pet exerciser or trainer, pet shop/aquarium assistant, animal shelter assistant, animal welfare officer and so many more!
To find out more about where TAFE Gippsland could take you, check out each available course in more detail below.
Hear from Renee, one of our Animal Sciences teachers
This is Clare who is studying Animal Sciences with us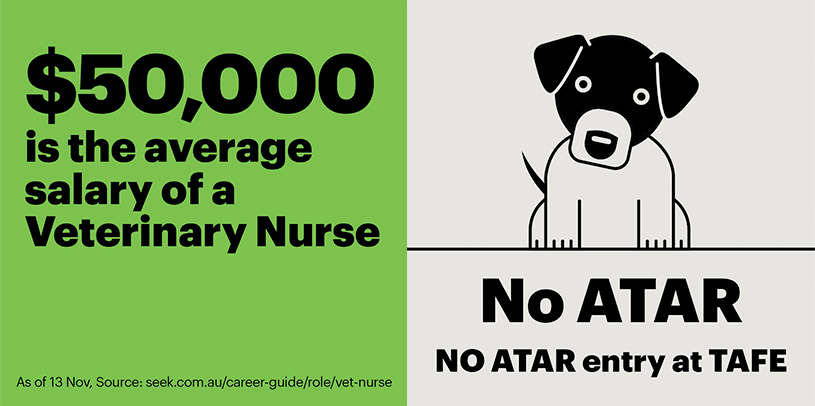 Which course is right for you?
ACM20117 Cert II in Animal Studies – ideal for those who've had no experience in working with animals but want to learn how to contribute to daily care of all animals and want to meet like-minded people. Graduates can work in shelters as an attendant.
ACM30417 Cert III in Companion Animal Services – students must be 16 years old and be able to work or volunteer in a companion animal organisation during their studies. This allows you to apply what you're learning in the classroom into a real life setting, both with animals and their owners and trainers.
ACM40418 Cert IV in Veterinary Nursing – Turn your love for animals into a rewarding career with the ACM40418 Certificate IV in Veterinary Nursing which is the industry-standard qualification for veterinary nurses in Australia. Veterinary Nurses are the backbone of every veterinary clinic. It's a job that requires skill, dedication and a love for animals.
Hesitant about studying animal studies at TAFE?
Leave your details below and we'll be in touch: