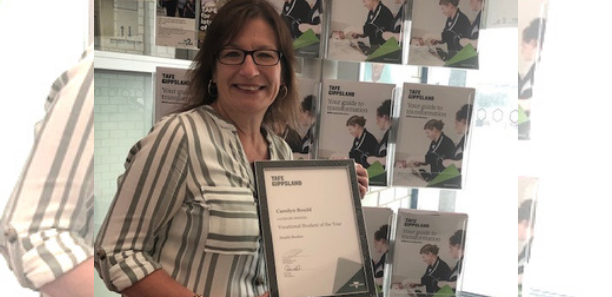 A lifelong interest in the healthcare sector was something that spurred Traralgon resident, Carolyn Bould, to return to study in 2019.
Completing her Certificate III in Individual Support at Morwell campus, Carolyn broadened her career opportunities by also undertaking a Disability Skills Uplift program during the year.
Not surprisingly, Carolyn gained employment from her placement facility, with her employer seeing her potential as a student and taking the opportunity to secure her as a new graduate. A wonderful outcome for Carolyn, for TAFE Gippsland and for Traralgon Aged Care facility.
Carolyn displayed exceptional communication skills throughout her studies and was always available to support her peers, provide guidance and be a positive role model. Her passion for her studies was evident. She always attended class well presented, committed to the program requirements, displayed exceptional writing and comprehension skills and remained professional at all times.
Carolyn is a wonderful example of a can-do attitude, juggling work, study, family, external pressures and deadlines and making it all work. She is a worthy recipient of a Vocational Student of the Year Award as she has been able to navigate her vocational education in a professional and articulate manner and has demonstrated the qualities TAFE Gippsland values in an excellent student.
Carolyn is now looking to further her Nursing studies either with TAFE or at University in 2021.