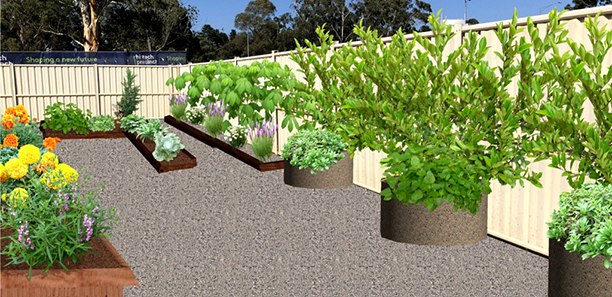 Above: An artistic impression of what the Waratah's herb garden will look like once work is complete
There are positive prognostications from the produce patch this year as our Horticulture and Hospitality students and teachers join forces to share their respective skills.
Teachers Katrina Langmaid (Horticulture) and Kellie Fraser (Hospitality), have been collaborating on a number of levels designed to teach students the benefits of home-grown fresh produce and its application in the culinary arts.
Katrina said her students have been maintaining micro herb gardens and growing edible flowers for some time.
"Our certificate IVs have been providing Hospitality with micro herbs and edible flowers every week last year, and we have great photos of them being used on their amazing dishes," Katrina said
"We have been maintaining their produce patch as well as providing them with produce we grow in our garden for their classes."
On the Hospitality side, Kellie Fraser describes the relationship as 'rewarding' for both sets of students.
"Our two department working together has been a real collaboration for the past 12 months and it has been so rewarding for both the Horticulture and Hospitality students," Kellie said.
"For produce to be grown organically and at our fingertips for students to use in class has been fantastic.
"Our students now appreciate fresh produce and know can identify and use the fruit, vegetables, herbs and flowers in all recipes made in class at the Waratah Training Restaurant."
Kellie said the initiative was, and will be, cost effective and sustainable.
"This is not only saving money for the department but also using sustainability practices making compost from our food scraps and, of course, meeting the needs of our curriculums," she said.
"As soon as we get back to face to face classes, we will continue to use all the amazing produce and you will be able to enjoy them in our Wednesday Lunch menu at the Waratah."
Kellie and Katrina were also working on a timetable of community dining events utilising the locally-grown produce and, unfortunately due to COVID-19, it will now come together either later in the year and/or next year.
Finally, big things are being planned for the horticulture and herb gardens at Morwell campus.
Watch this space and we'll bring you all the action from the pumpkin patch as it happens.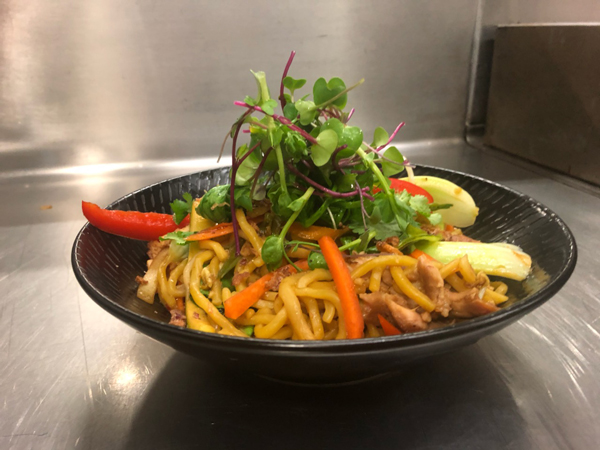 Above: Some of the home-grown herbs have found their way into the delicious meals at Waratah Training Restaurant
---
For all media-related enquiries, call;
Neil Lawson - Communications Coordinator, TAFE Gippsland
Phone - 0419 425 804
Email - nlawson@tafegippsland.edu.au or news@tafegippsland.edu.au