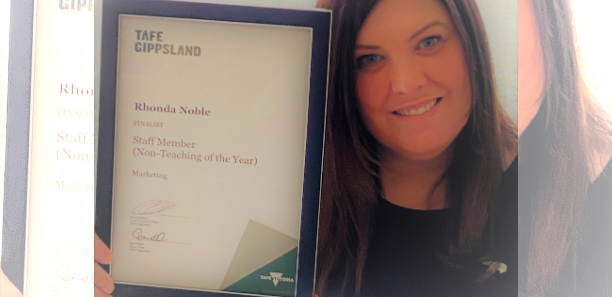 A reputation as honest, transparent and professional has earned Rhonda Noble a Non-Teaching Staff Member of the Year Award in 2020.
While Rhonda assumed the role of Senior Advisor – Student Recruitment in 2020, her extensive TAFE experience has included leading the development of our recruitment team under the Marketing banner amongst a variety of roles over the past 15 years.
Described in her nomination as a fantastic advocate for TAFE Gippsland, Rhonda's exceptional customer service skills and passion in her Institute roles cannot be faulted.
Rhonda always goes above and beyond her role to assist other departments and her skills and course knowledge are vital to our day to day practices.
She promotes our Institute to a high standard, creates vital links with schools and is always available to help teaching areas where needed with their enrolment questions.
Rhonda Noble is a valuable and trusted member of the TAFE Gippsland family, and we congratulate her on an outstanding achievement as a recipient of a Staff Member (Non-teaching) of the Year Award in 2020.
---
For all media-related enquiries, call;
Neil Lawson - Communications Coordinator, TAFE Gippsland
Phone - 0419 425 804
Email - nlawson@tafegippsland.edu.au or news@tafegippsland.edu.au