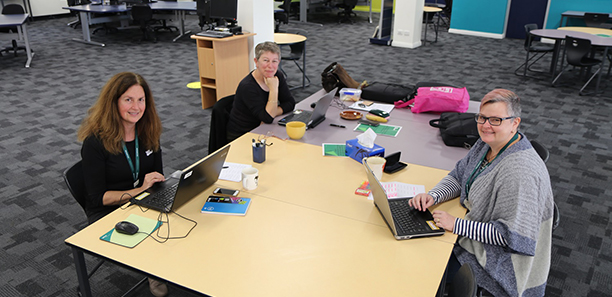 Above: Planning Day at Yallourn (with social distancing); from left Sandra, Ruth and Janelle get down to business.
While the libraries are quieter than usual at TAFE Gippsland these days, our Librarians are still as busy as ever.
COVID-19 has certainly removed a lot of students from the day-to-day hustle and bustle of campus libraries, and this has provided opportunities for staff to reassess internal processes and undertake future planning.
Despite the current pandemic, library spaces at the larger campuses have remained open for students and staff to use, with social distancing and hygiene measures in place.
Library staff from across our Gippsland campuses took a break from the regular Zoom meetings to meet (at a safe distance) in Yallourn in early July.
Yallourn's Sandra Curtis was joined by Ruth Downs from Bairnsdale and Janelle Campbell from Fulham to workshop a range of current issues. Anne Yerbury from Leongatha was an absentee.
"The meeting gave us an opportunity to look at our physical set ups and discuss what opportunities there are at the moment to provide further support to students," Sandra said.
"We are also still available to help students on and off-site and can give support via Zoom if preferred, and we're still offering all our usual services, from log-in help to support with referencing and of course, books can still be borrowed and requested online."
Library staff had have an opportunity to perform a lot of maintenance activities that emerged during the past three months and this is work that will improve the library spaces for the eventual return of more students.
The staff members have also undertaken stock takes of the book resources and assessed them to make sure the book collections are current and relevant.
"The planning work and introducing safe study processes will support our students with their studies at the moment and will facilitate safe access to resource material during the current circumstances," Ruth said.
"The arrangements introduced for students accessing our libraries are ensuring they are being kept safe while on campus and this provides a better student experience for their time at TAFE Gippsland."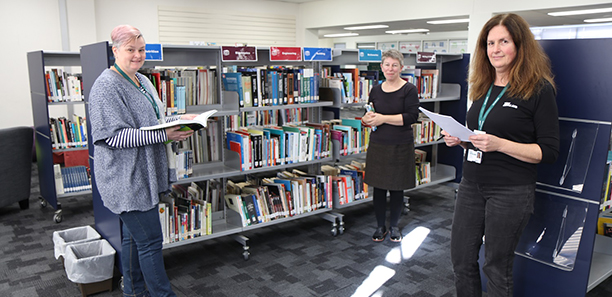 Above: Checking on the resources for the eventual return of students; from left, Janelle Campbell, Ruth Downs and Sandra Curtis
---
For all media-related enquiries, call;
Neil Lawson - Communications Coordinator, TAFE Gippsland
Phone - 0419 425 804
Email - nlawson@tafegippsland.edu.au or news@tafegippsland.edu.au