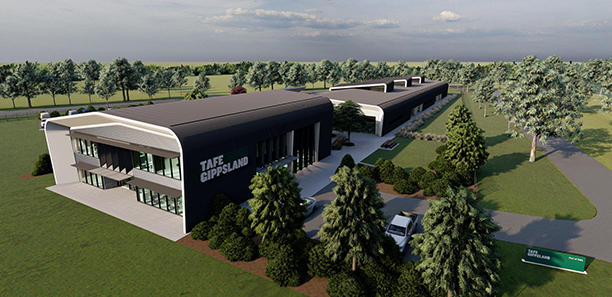 Above: An artist impression of our Port of Sale campus
Vocational students in Wellington Shire can begin to get excited with construction work on a new centrally-located TAFE campus ready to roll.
TAFE Gippsland's new Port of Sale campus will begin to emerge from its greenfield location between Punt Lane and York Street as construction begins on the exciting $25 million capital development project.
Minister for Training and Skills Gayle Tierney today announced the appointment of McCorkell Constructions as the builder of TAFE Gippsland's new $25 million Port of Sale campus.
"The campus will deliver education and training facilities for a range of industry and academic disciplines that will meet local industry and community needs and the best practice training for students across the region," Minister Tierney said.
"The Port of Sale development is another example of the work the Andrews Labor Government is doing to provide the latest in training for students and industry."
TAFE Gippsland's chief executive, Mr Grant Radford, welcomed the Minister's announcement, saying it will be 'deeply satisfying to see the new state-of-the-art facility become a reality'.
"Our Port of Sale campus will continue to deliver on the training needs of the local industry, our partners and the community with its central location, while also ensuring our students and staff have access to the first class facilities they deserve," Mr Radford said.
"We understand this new campus has been in the pipeline for some time and it will deliver a quality vocational training experience and first class training facilities suited to a range of local industry disciplines."
Mr Radford also said that the current growth in vocational training in Wellington Shire has been great news for the Sale region and the surrounding community.
"Free TAFE has seen solid course growth in vocational training in the Sale region and that has prompted an expansion and refurbishment of our centrally-located Flexible Learning Centre campus, along with the retention of our Gtec campus which delivers VCE and VCAL studies to students in a supportive niche location," Mr Radford said.
"We look forward to the Minister's visit to this important project as we celebrate a host of campus redevelopment projects across our Gippsland community."
The Port of Sale campus construction begins early this month, and the project will be completed in late 2021 with the first students to commence in February 2022.
A fly-through video animation, showing an artist impression of TAFE Gippsland's Port of Sale campus, was launched earlier this year. Artist impressions of the new campus are attached to this release
---
For all media-related enquiries, call;
Neil Lawson - Communications Coordinator, TAFE Gippsland
Phone - 0419 425 804
Email - nlawson@tafegippsland.edu.au or news@tafegippsland.edu.au