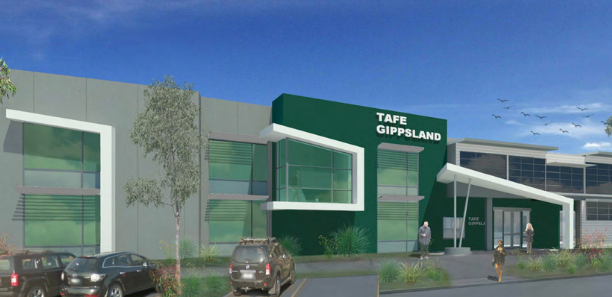 Artist impression of the refurbished Warragul campus.
TAFE Gippsland staff and students are the big winners in a multi-million dollar refurbishment of TAFE Gippsland's Warragul campus.
With $2.9 million of additional funding support from the Victorian Government's TAFE Asset Maintenance Fund announced earlier in September, the major upgrade to the Warragul campus will begin in late 2020.
TAFE Gippsland's Chief Executive, Grant Radford, said the work will deliver significant improvements to the Queen Street campus.
"The upgrade to our Warragul campus will deliver a better student experience in fit-for-purpose facilities and will ensure TAFE Gippsland can cater for growth in demand for specific vocational and educational training courses in the Warragul and Drouin peri-urban growth corridor," Mr Radford said.
"Specifically, the upgrade will deliver new high quality specialist training spaces to accommodate growth in courses such as Nursing and Early Childhood Education, and it will add to existing general-purpose training spaces, along with refurbished staff accommodation and a new campus entrance."
Mr Radford said the refurbishment will assist TAFE Gippsland in attracting new students and in delivering on the local training needs of existing students in the Baw Baw Shire region.
The works are scheduled to begin in November 2020 and be complete in late 2021.
---
For all media-related enquiries, call;
Neil Lawson - Communications Coordinator, TAFE Gippsland
Phone - 0419 425 804
Email - nlawson@tafegippsland.edu.au or news@tafegippsland.edu.au