Work Begins on TAFE Gippsland's new Morwell Trade Skills Centre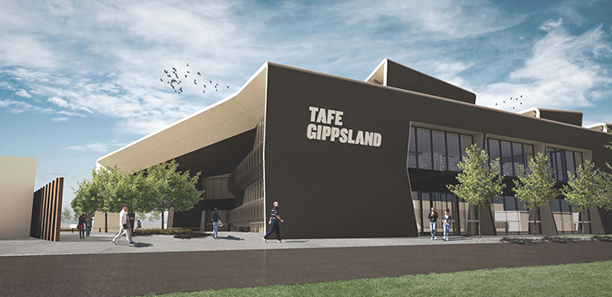 Work on the second stage of TAFE Gippsland's $35.5 million redevelopment of Morwell campus has begun.
The Stage 2 works will see the construction of a new 'Morwell Trade Skills Centre' (MTSC) with preliminary works already underway in July.
The fit-for-purpose innovative building was designed by architects GHDWoodhead, and it will be built by ADCO Constructions with the opportunity for local Gippsland contractors to be involved through a tender process.
TAFE Gippsland chief executive, Grant Radford, welcomed the latest construction activity, saying the Morwell Trade Skills Centre will complete the major redevelopment works taking place at the Morwell campus.
"This state-of-the-art building will offer training in electrotechnology, new energy systems, instrumentation and plumbing trade training with specialist workshop, lab facilities and more general-purpose classrooms," Mr Radford said.
"This second stage of our major redevelopment at Morwell will bring first class trade skills training facilities to Morwell and provide exciting new vocational training opportunities to our Latrobe Valley and broader Gippsland region students.
"We are delighted that the Victorian Government is investing significantly in new state-of-the-art facilities at our Morwell campus to ensure we can meet the current and future needs of our students, community and industry," Mr Radford said.
The MTSC is due for completion in late 2021 and open to students in January 2022.
TAFE Gippsland's entire Morwell campus redevelopment can be viewed on this animated video fly-through, which offers a birds'-eye view of the new campus buildings.
TAFE Gippsland's other major campus construction project – the new Port of Sale campus - is due to begin construction in October 2020, as we work with the Victorian Government to improve the vocational education and training facilities available to TAFE students in Wellington Shire.
---
For all media-related enquiries, call;
Neil Lawson - Communications Coordinator, TAFE Gippsland
Phone - 0419 425 804
Email - nlawson@tafegippsland.edu.au or news@tafegippsland.edu.au