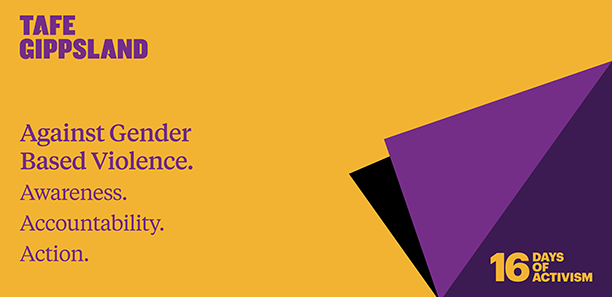 An on-line webinar to discuss changing community attitudes around gender-based violence will be hosted by TAFE Gippsland in late November 2021.
TAFE Gippsland campuses are situated within regional areas of Victoria with some of the highest rates of family violence.
Therefore, as part of our commitment to the health and wellbeing of our students, staff and the wider Gippsland community, TAFE Gippsland will be providing this webinar as a platform to discuss 'Changing Community Attitudes' around gender-based violence.
The webinar will be offered on 30 November, during the 16 Days of Activism event, and it includes leading guest speakers including former teacher, footballer and independent parliamentarian, Phil Cleary, who has had tragic first-hand experience in gender-based violence.
Phil is a member of the Victorian Government's Victim Survivors' Advisory Council – along with Rosie Batty – which advises the government on the implementation of recommendations made by the Victorian Royal Commission into Family Violence
Other speakers include Jeremy Schroeder, currently leading a grassroots, not-for-profit organisation - East Gippsland Men's Health, and Owen Smeal, an 18 year veteran of the Victoria Police Force, working on frontline duties at both metropolitan and country locations.
They will be joined by Chris Gibson, a former Latrobe valley resident and now a Men's Behaviour Change Principal Facilitator with Yoowinna Wurnalung Aboriginal Healing Service, and representatives from The Orange Door – a local free service for adults, children and young people – who will speak about their experience in our regional communities.
The full program can be found here and the webinar will be held on Tuesday 30 November 2021 from 12.30pm to 2.30pm. You can register at the link below.
The Victorian Government's $2.7 billion investment in family violence workforce development, training and skills initiatives has also included a short course that helps people to gain foundational knowledge and skills in family violence training. TAFE Gippsland is one of eight higher education providers delivering this training.
Who should attend the webinar? It's open to all men and women in our Gippsland community! And anyone who wants to learn, understand and broaden the conversation around gender-based violence.
Please join us to be part of the conversation on Tuesday 30 November. To register, click here.
For more information, please contact Genevieve Parle at: gparle@tafegippsland.edu.au or call 0473 180 094.
---
For all media related enquiries, call;
Neil Lawson - Communications Coordinator, TAFE Gippsland
Phone - 0419 425 804
Email - nlawson@tafegippsland.edu.au or news@tafegippsland.edu.au