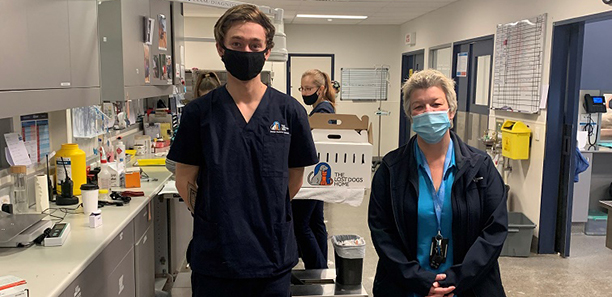 Above: TAFE Gippsland Vet Nursing student Brad Arnell (left) at the Lost Dogs Home with Director of Operations Liz Walker
TAFE Gippsland has hosted the official launch of the Victorian Government's Free TAFE courses for 2022.
In a 'virtual' Ministerial event held this week, the Minister for Training and Skills and Higher Education, Hon Gayle Tierney, joined TAFE Gippsland chief executive, Mr Grant Radford, and invited guests, to announce a number of new Free TAFE vocational training courses to commence next year.
Minister Tierney announced seven new courses for next year, headlined by the Certificate IV in Veterinary Nursing – giving jobseekers access to world-class training and boosting the veterinary industry by alleviating workforce demands in metropolitan and regional Victoria.
The Training & Skills Minister said the new courses would also include the Certificate IV in Work Healthand Safety will also join the free courses, ensuring every Victorian has a safe experience in their workplace, as well as the Certificate III in Information Technology and Certificate III in Supply Chain Operations.
Mr Radford, said TAFE Gippsland was delighted to assist the state government in announcing the Free TAFE course list for 2022, as he welcomed guests to the event.
"TAFE Gippsland has seen a significant increase in enrolments due to the Victorian Government's Free TAFE initiative, and we are very happy to see this program grow to include courses that will boost career opportunities in our regional communities," Mr Radford said.
Mr Radford was also joined by Ms Liz Walker, Director of Operations, from the Lost Dogs Home in North Melbourne, and TAFE Gippsland student, Brad Arnell, who is studying Certificate IV in Veterinary Nursing – one of the new courses on the 2022 Free TAFE list. Vet Nursing teacher, Renee Thomson, also spoke about the delivery of the vocational training course at TAFE Gippsland campuses.
Ms Walker and Brad took guests on a virtual tour of the Lost Dogs Home where Brad is doing his work placement program as part of his current vocational training.
Today's announcement means that seven new courses will be added to the Free TAFE course list in 2022, taking the total available Free TAFE courses in Victoria to over 60. They are:
Certificate III in Information Technology
Certificate III in Supply Chain Operations
Certificate IV in Outdoor Leadership
TAFE Gippsland will offer five of these Free TAFE courses in 2022 and enrolments are currently open. Full details on all Free TAFE courses are available at: https://www.tafegippsland.edu.au/courses/freetafe, and you can explore all your Free TAFE options at: freetafe.vic.gov.au.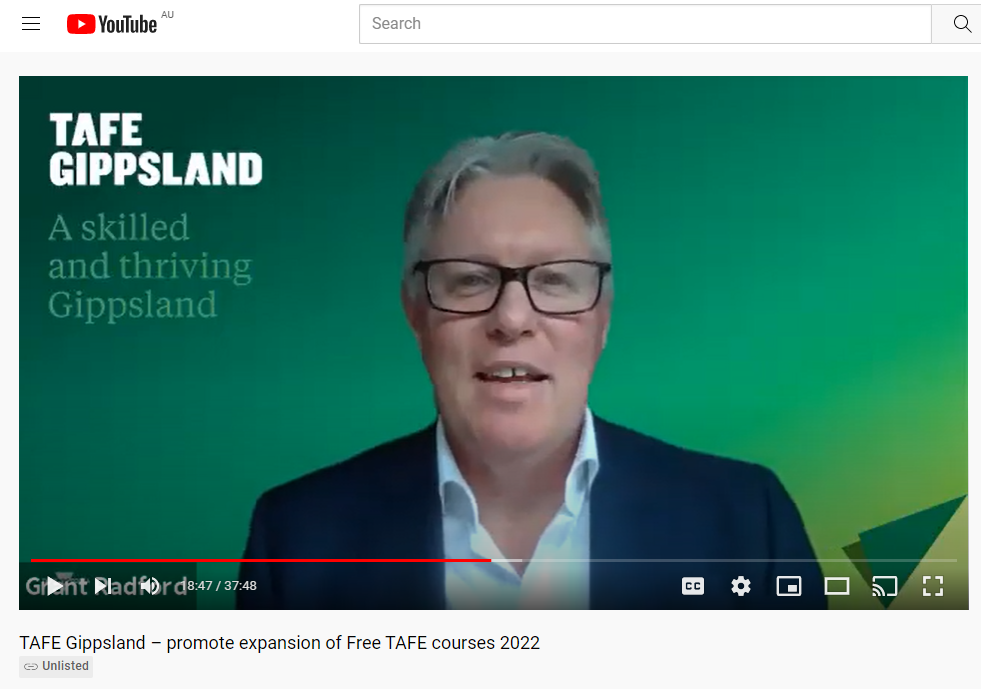 Above: TAFE Gippsland CEO Grant Radford hosted the online event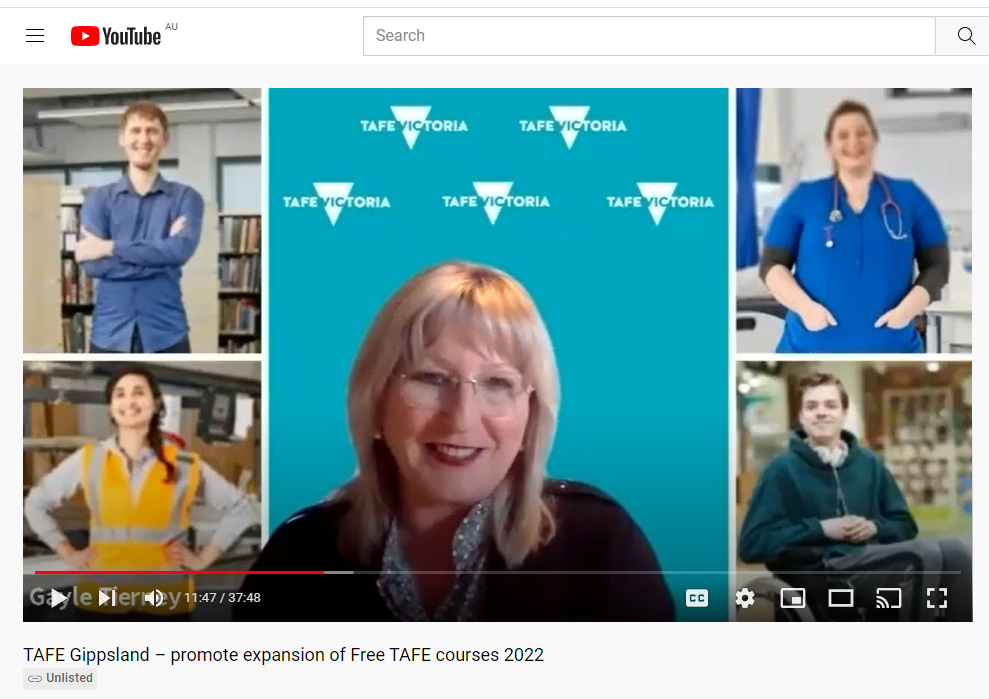 Above: Minister Gayle Tierney addresses the 2022 Free TAFE announcement event this week
---
For all media-related enquiries, call;
Neil Lawson - Communications Coordinator, TAFE Gippsland
Phone - 0419 425 804
Email - nlawson@tafegippsland.edu.au or news@tafegippsland.edu.au