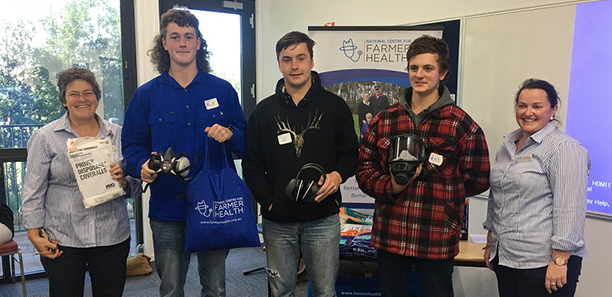 Written in conjunction with National Centre for Farmer Health
A team from the National Centre for Farmer Health attended TAFE Gippsland in mid-May, to deliver its Gear Up for Ag Health & Safety program and discuss important health and farm safety messages with students.
The Gear Up program is funded by the Victorian Government's 'Smarter, Safer Farms' initiative to positively influence farm safety culture. The initiative covers safe quadbike and motorbike usage, respiratory protection, agrichemical exposure, eye and ear safety, zoonotic diseases (from cattle and sheep), heat related stress and skin protection. It introduces the next generation of farmers to the importance of keeping healthy, both physically and mentally in one of the most hazardous industry in Australia.
TAFE Gippsland teacher, Amy Fazl, said the program provided an opportunity for Certificate II Agriculture students to, "reflect on their current farm safety practices and discuss important health and safety topics".
"At TAFE Gippsland, we understand the importance of farm safety training in and we include it in all of our qualifications from Certificate II in Agriculture for new entrants, to Certificate IV in Agriculture for farm managers and owners," Amy said.
"Students were engaged in learning with interactive activities and various demonstrations and were excited to have received a free kit of personal protective equipment as well."
Gear Up facilitator, Sally Cunningham, said the program discussed both hazard identification and on-farm strategies.
"During the Gear Up program we discuss the hazards that students may be exposed to when working on a farm, some of which they may not even consider as being a hazard or having an impact, like exposure to loud noise," Sally said.
"We also discuss strategies that can be applied to minimise the farm risk by demonstrating proper and correct usage of personal protection equipment when risk cannot be eliminated."
Students participated in digital quizzes, including reading and understanding material safety data sheets of common farm agrichemicals to help them identify PPE required, and how to safely remove contaminated PPE. Asked about a key take away from the program, one female student said that she "will try to make sure that I read labels of chemicals I use in the future".
"The agriculture industry continues to be one of the most hazardous industries in Australia and the Gear Up for Ag Health & Safety program gives students practical information that they can apply to keep them safe when working on farm and improve farm safety practices into the future," Sally Cunningham concluded.
More information about the Gear Up program can be accessed here.
---
For all media-related enquiries, call;
Neil Lawson - Communications Coordinator, TAFE Gippsland
Phone - 0419 425 804
Email - nlawson@tafegippsland.edu.au or news@tafegippsland.edu.au