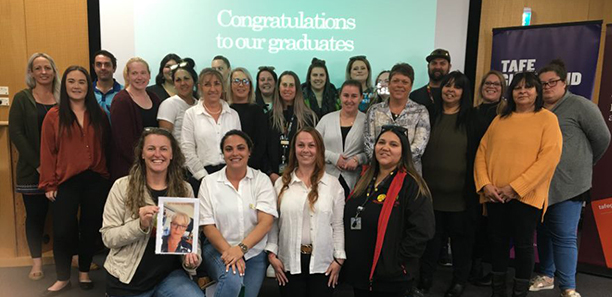 There are nearly 40 newly graduated students in East Gippsland as another successful collaboration delivers vital skills into the local Aboriginal community.
The Gippsland and East Gippsland Aboriginal Cooperative (GEGAC) held their official 2021 Graduation event at TAFE Gippsland's Bairnsdale campus in late April to celebrate students graduating from a unique training program.
TAFE Gippsland's chief executive, Mr Grant Radford, joined GEGAC CEO, Mr Jamie Williamson, to welcome and congratulate the graduating students.
Mr Radford said developing both the Diploma and Certificate IV in Community Services training package showed a shared commitment to deliver on the needs of regional communities.
"Over the past three years, TAFE Gippsland and GEGAC have collaborated to create and deliver innovative and customised Management and Leadership and now the Community Services qualifications for GEGAC staff," Mr Radford said.
"This collaboration is an important and valued partnership for TAFE Gippsland, and now we honour another group of graduates in the Diploma and Certificate IV in Community Services who have completed their training, and they are ready to use their skills to build community capacity and better outcomes for Aboriginal people across Gippsland."
The bespoke vocational training programs over the past three years have assisted GEGAC to build leadership capacity within its own workforce and increase personal advocacy skills on behalf of the local East Gippsland Aboriginal and Torres Strait Islander community.
Mr Radford said working closely together to create the training has delivered great outcomes for both organisations so far.
"We are very proud of these customised training programs and of our relationship that builds our knowledge on the specific needs of our local indigenous community," he said.
Mr Radford acknowledged the significant contributions of key TAFE Gippsland people during this course in Ros Kempton - Teacher Diploma, Emma Bateson - Teacher Cert IV, Lynette Stephenson – Admin Support, the TAFE Gippsland Koorie Unit and especially Koorie teacher, Alan Solomon.
He also paid tribute to GEGEAC's Acting Corporate Services Manager, Lynda Capes, and the entire GEGAC team for their professional commitment to training excellence at all times.
"This is about developing and delivering new skills training to build capacity in this important regional area of Gippsland, and it is about partnerships and collaborations with skilled organisations in this community and GEGAC are a very valued partner of TAFE Gippsland."
---
For all media-related enquiries, call;
Neil Lawson - Communications Coordinator, TAFE Gippsland
Phone - 0419 425 804
Email - nlawson@tafegippsland.edu.au or news@tafegippsland.edu.au