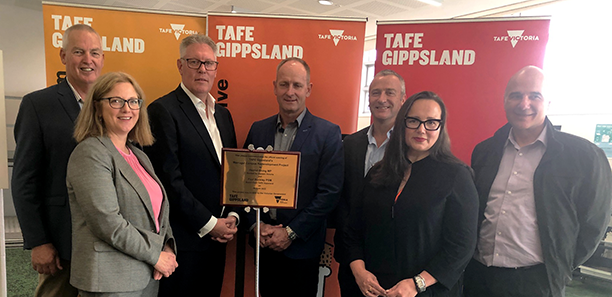 One of TAFE Gippsland's major campus redevelopment projects will be unveiled today by MLC for Eastern Victoria, Ms Harriet Shing MP.
Ms Shing will officially launch the refurbishments at TAFE Gippsland's Warragul campus, made possible through the Victorian Government's TAFE Asset Maintenance Fund.
Ms Shing was representing the Minister for Training and Skills, Hon Gayle Tierney, and she was welcomed to Warragul campus by TAFE Gippsland Chief Executive Officer, Mr Grant Radford and Board Chair, Paul Buckley PSM.
Mr Radford said the Warragul campus learning facilities and accommodation spaces are now significantly improved as a result of the $6.25 million project.
"We are very excited to see this refurbishment of our Warragul campus now complete, and it delivers a number of new training spaces and new office accommodation for our Institute here in Baw Baw Shire," Mr Radford said.
"Our vocational students and staff now have access to new and high-quality learning spaces, enhanced accommodation and better facilities as a result of the significant investment by TAFE Gippsland and the Victorian Government."
The centrally located Warragul campus in Queen Street has undergone a major rebuild at its eastern end with a number of additional learning spaces and new accommodation areas completed along with significant improvements and refurbishment of older campus areas.
"Warragul campus is now offering an improved student learning experience in this important outer peri-urban corridor in West Gippsland, and this campus along with our Skills Centre are focused on the types of vocational training that match a range of local industry disciplines and business needs," Mr Radford concluded.
The $6.25 million development project began in early 2020 with the appointment of Becon Constructions to remodel the Warragul campus for the benefit of TAFE Gippsland staff and students and the Baw Baw Shire community.
The work was completed in December 2021 with students moving into the new campus training spaces in Term 1 this year.
---
For all media related enquiries, call;
Neil Lawson - Communications Coordinator, TAFE Gippsland
Phone - 0419 425 804
Email - nlawson@tafegippsland.edu.au or news@tafegippsland.edu.au