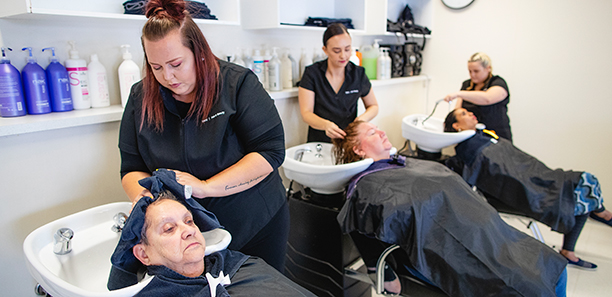 Hair and Beauty students at our Traralgon campus gave their time and talent to help eight lovely ladies from the Latrobe Valley community earlier this year.
The 2019 Pamper Day was an opportunity for our TAFE students to provide clients from Morwell Neighborhood House (MNH) with hair and facial treatments.
The day was the fourth annual event held in conjunction with Morwell Neighborhood House, and MNH Manager Tracie Lund said her clients were thrilled at the chance to take part again.
"We took eight beautiful ladies along to TAFE Gippsland for the Hair and Beauty students practice their skills and provide some much needed pampering," Tracie said.
"Our ladies left feeling special and they really benefited from the opportunity to indulge in a little me time. Not only did they look fabulous but the makeovers have given them an improved sense of self-worth, value and increased confidence."
Tracie applauded the "incredible team of future beauty professional who worked their magic on our gorgeous gals" noting that the experience for both the participant and the students was overwhelmingly positive.
"The strong and effective partnerships we have developed with TAFE Gippsland Traralgon campus is a relationship we truly value," Tracie said.
Interim Program Manager Hair and Beauty, Leah Thorburn, was also delighted with the day and the role TAFE students played in its success.
"We are all very proud of our teachers and students – they get a chance to showcase their skills and at the same time, give something back to our community; it is a wonderful partnership."