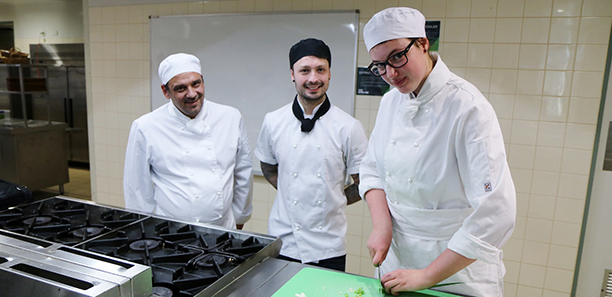 TAFE Gippsland students, Kristen Schuman and Michael Di Grazia, were determined to seek their preferred skills training through TAFE when they enrolled in the Certificate III of Commercial Cookery in 2019.
With their career prospects uncertain, the two Hospitality students made the decision to take advantage of the state government's Free TAFE initiative and began their studies with TAFE Gippsland.
The Gippsland locals joined 15 other students enrolled at TAFE Gippsland's Morwell campus and commenced their studies at the Waratah Training Restaurant in February this year, under the guidance of Hospitality trainer, Anthony Patterson.
"It's something I've always had a real passion about since high school and when I found out the course was free, I just decided to have go," Kristen said.
Michael's pathway was altogether different as a mature-age student coming from an industrial background.
"I wanted to do something different and loved watching the cooking shows, so this course came along and my teachers have given me so much encouragement," Michael said.
As a result of their training and with encouragement from Anthony, both Kristen and Michael have now landed Apprenticeships with well-known local eateries, Three Little Birds Café in Traralgon and the Saltbush Restaurant and Cafe in Morwell respectively.
Combining their study during evening classes with the demands of their employer, these two student Apprentices are determined to succeed in their chosen field.
The students agree the Certificate course delivers confidence, new skills and a greater appreciation of this industry and the opportunities available.
"We wouldn't be in this position if it wasn't for the Free TAFE initiative and now we are finding a career path has opened through TAFE Gippsland's acceptance of us as students and their help in getting us into the workforce,'' Kristen said.
TAFE Gippsland's Certificate III in Commercial Cookery has been designed for students like Kristen and Michael, and it is being offered at Leongatha, Morwell and Bairnsdale campuses throughout Gippsland in regional Victoria.
This course is funded by the Victorian Government's Priority for Free TAFE* courses.
*For more information, call TAFE Gippsland on 1300 133 717 or visit www.tafegippsland.edu.au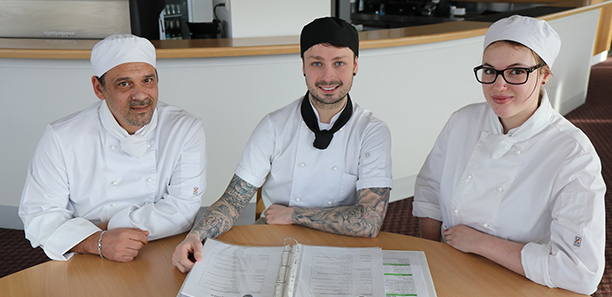 ---
For all media-related enquiries, call;
Neil Lawson - Communications Coordinator, TAFE Gippsland
Phone - 0419 425 804
Email - nlawson@tafegippsland.edu.au or news@tafegippsland.edu.au