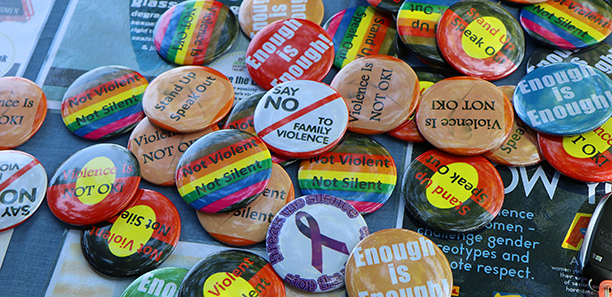 TAFE Gippsland Community Service students are supporting a major social initiative aimed at stopping family violence in our community.
The students from TAFE Gippsland's Bairnsdale campus will hold a morning tea on Monday 25 November 2019 to highlight the issue.
TAFE Gippsland's Head of Department Student Services, Ms Shae McGregor, said the morning tea would include the opportunity for staff and students to honour the women and children who have lost their lives this year due to family violence.
"As part of the 16 days of Activism for Family Violence awareness campaign, we are planning to hold a public morning tea on 25th November alongside representatives from Gippsland Women's Health," Ms McGregor said.
"Our staff and Community Services students will also create a 'field of hearts' under the Oak tree on our Bairnsdale campus, with each heart representing a woman or child impacted by family violence.
The morning tea event will also involve important TAFE partners including GEGAC and Victoria Police to allow their perspective on this important social issue.
The event will raise also awareness for the Walk to Change the Story march involving primary schools and other community service organisations on Wednesday 27 November through the streets of Bairnsdale between 10.30am and 2.30pm.
Walk to Change the Story is led by GLCH and is supported by Uniting, Gippsland Centre Against Sexual Assault, Gippsland & East Gippsland Aboriginal Co-Operative Ltd, Save the Children, Respectful Relationships, Yoowinna Wurnalung Healing Service (YWHS), Bairnsdale Regional Health Services, East Gippsland Shire Council, and Victoria Police.
Ms McGregor said TAFE Gippsland is "fully committed to providing quality vocational training support for people working in the vital community services sector".
"We want to ensure that our students have the opportunity to gain skills that ultimately boost the quality of services provided in our community," Ms McGregor said.
"Understanding community social issues and working with our valued partners throughout Gippsland is going to lead to improved social awareness that matches industry needs with the skills of our students."
---
For all media-related enquiries, call;
Neil Lawson - Communications Coordinator, TAFE Gippsland
Phone - 0419 425 804
Email - nlawson@tafegippsland.edu.au or news@tafegippsland.edu.au