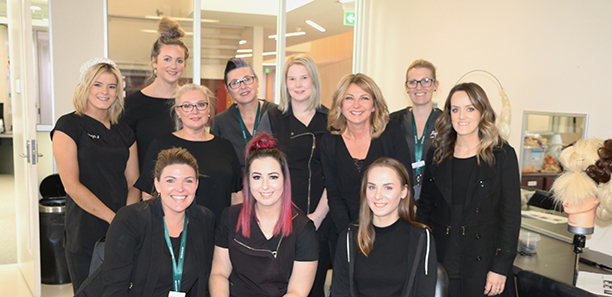 Gala team pictured with TAFE Gippsland staff and Lorna Evans, top row, third from right.
Our very talented and creative hair and makeup students recently made a trip to Sydney to participate in the Generation Next Gala Hair Expo where they exhibited alongside teams from high profile salons within Australia, USA and the UK.
The team of eight, made up of hairdressing and makeup students were accompanied to Sydney by their TAFE teachers and the 2018 hairdressing educator of the year, Lorna Evans.
Lorna played a mentoring role, spending time with the students in the four months leading up to the event, where she supported them preparing for the show.
The experience was once in a lifetime for most involved, especially given that TAFE Gippsland were the only Australian RTO (registered training organisation) to compete and be mentored by Lorna in the lead up.
Hair and Beauty program manager, Emma Fowles, said the expo is a platform for up and coming talent in the industry to showcase their skills.
"It was such an amazing experience for everyone involved and an unbelievable experience for our regional TAFE to be on stage alongside teams from all over the world," said Ms Fowles.
"Our students were simply outstanding in what they produced and for representing TAFE Gippsland," Ms Fowles continues.
Hairdressing apprentice, Lisa, said the experience was hands down the best experience any apprentice could have throughout their training.
"The experience gained through this I can imagine will last my lifetime," says Lisa.
Press play to watch the show. The theme was 'Living Doll'.
---
For all media-related enquiries, call;
Neil Lawson - Communications Coordinator, TAFE Gippsland
Phone - 0419 425 804
Email - nlawson@tafegippsland.edu.au or news@tafegippsland.edu.au