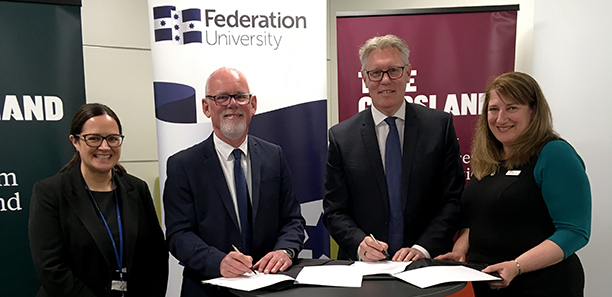 Left to Right: Anita Raymond (Latrobe Regional Hospital), Professor Andy Smith (Vice-Chancellor (Academic), Federation University), Grant Radford (CEO, TAFE Gippsland) and Sue Ritchie (Karmai Community Children's Centre).
FEDERATION UNIVERSITY AND TAFE GIPPSLAND INK LANDMARK AGREEMENT ADVANCING HIGHER EDUCATION IN THE REGION
In a first for the Gippsland region, Federation University Australia and TAFE Gippsland today signed a landmark Memorandum of Understanding (MOU) to advance and support tertiary education in Victoria's Gippsland region.
Under the agreement, TAFE Gippsland students of Nursing, Community Services, Business, Education and Conservation and Land Management will graduate with guaranteed credits for the relevant Federation University undergraduate degrees. This means students could finish their university degree in two years instead of three, helping to address local workforce shortages in industries such as health and education.
The Australian Bureau of Statistics' Labour Force Survey shows employment in the Gippsland region has already grown by almost 5,000 jobs in education and training, and by more than 3,000 in health in the past five years.
The Victorian Government's 2019 Jobs and Training Needs Report lists courses in early education, school age education and care, and nursing among a selection of courses that closely align to Gippsland's industry and economic needs.
The agreement will come into effect next year and marks the first step in what will be a long partnership between TAFE Gippsland and Federation University regarding pathway development and the potential for joint program offerings.
TAFE Gippsland and Federation University have also established a scholarship program for 2020, providing 10 TAFE Gippsland graduates with a $1,000 grant each to put towards studying a Bachelor degree with Federation University.
Quotes attributable to Federation University Deputy Vice-Chancellor (Academic), Professor Andy Smith
"This will make higher education even more accessible to the community of Gippsland and help address skills shortages in the region, particularly in education and health. It means students will be able to finish their degree and join the workforce sooner."
Quotes attributable to TAFE Gippsland CEO Grant Radford,
"For 85 years we have been helping Gippsland communities thrive. We are passionate at TAFE Gippsland about giving everyone the opportunity to undertake quality and reliable vocational training. This MoU will be key to ensuring our TAFE students have a clear pathway to advance their studies."
Quotes attributable to Anita Raymond, General Manager, Education, Training, and Research, Latrobe Regional Hospital
"LRH has been a strong supporter of regional TAFE and university undergraduate nursing and enrolled placements for many years. Our partnership with tertiary providers in the development of nursing graduates is vital to ensuring we're able to continue providing safe, quality care. Nursing in a regional setting often comes with a unique set of challenges so it's terrific to welcome local graduates each year who are eager to work and live in Gippsland. This not only benefits our hospital but adds to the vibrancy of our community."
---
For all media-related enquiries, call;
Neil Lawson - Communications Coordinator, TAFE Gippsland
Phone - 0418 425 804
Email - nlawson@tafegippsland.edu.au or news@tafegippsland.edu.au