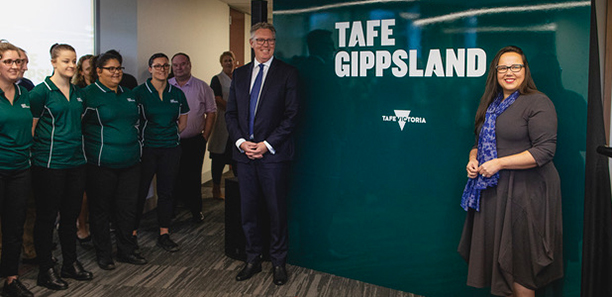 Federation Training is embarking on an exciting new chapter in its rich history with a new name and a new identity - TAFE Gippsland.
TAFE Gippsland's bold new logo and branding was unveiled in Morwell today by local MLC, Harriet Shing. It is being rolled out at TAFE campus facilities across the region over the coming days and weeks.
TAFE Gippsland Chief Executive, Mr Grant Radford, said following extensive consultation with the local community, business, government, industry and schools, it became clear that Gippslanders wanted a name for their TAFE that resonates and one that can make the entire community proud.
"This is a really exciting time for TAFE Gippsland, our students, staff and the entire community," Mr Radford said.
"We've seen a significant increase in enrolments this year, major campus upgrades will deliver new state-of-the-art facilities in Sale and Morwell and the community consultation process we've recently launched means that we will provide the courses at our upgraded campuses that meet the needs of our students and local employers."
Ms Shing said the Victorian Government supported the name change to TAFE Gippsland following consultation with the Gippsland community.
"The move to re-name TAFE Gippsland is the direct result of consultation with the community - it's crucial that we reflect importance of a local connection for Gippslanders while we continue our investment in local campuses and courses across the region," Ms Shing announced.
"We are making training more accessible and affordable for Victorians. The increased number of students at TAFE Gippsland is showing the popularity – and importance – of the Free TAFE program, while we increase local opportunities for employment."
Mr Radford said the new TAFE Gippsland name was much more than just a name change and that the new brand is a reflection of the important role that TAFE plays in the region.
"Our new name defines what we do and where we do it best - we're proud to be Gippsland's local and trusted TAFE," Mr Radford said.
"TAFE Gippsland will continue to deliver what the community needs from its vocational education and training provider both now and into the future.
"We look forward to working closely with all Gippslanders, so together we can help address the skills challenges we face and ensure there is a bright future for our students and our region."
---
Media Contact:
Neil Lawson - Communications Coordinator
Phone - 0419 425 804
Email - nlawson@tafegippsland.edu.au