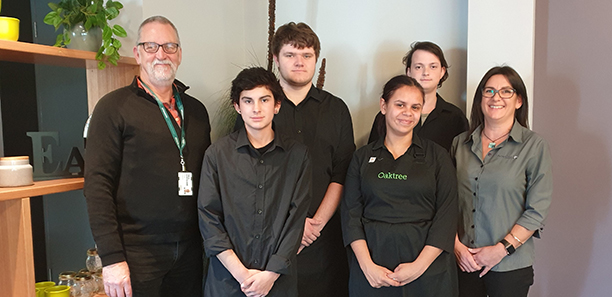 TAFE Gippsland students studying in the Victorian Certificate of Applied Learning (VCAL) program have the opportunity to undertake 'taster' or elective subjects in addition to their core units.
One such taster subject is Hospitality which, for TAFE Gippsland VCAL students in Bairnsdale, includes working in the popular and newly refurbished Oaktree Restaurant on Bairnsdale campus.
TAFE Gippsland Bairnsdale VCAL Teacher, Brad Downs, said the busy work environment delivers "genuine real-life work experience to students who may otherwise struggle to gain experience".
"This experience provides students with employability skills including team work, communication, problem solving, initiative and enterprise, planning and organising, self-management, learning and technology," Mr Downs said.
Mr Downs also praised the efforts of VCAL students who he said, have 'blossomed' under the guidance of Hospitality Teacher and colleague, Polly Stevenson.
"Polly not only teaches skills to the students, she instils in them a strong work ethic which in turn gives the students confidence and something to be proud of," Mr Downs said.
"The students have really grown into their roles in what is, at times, a very challenging work environment, and to see them working so well together warms my heart," he added.
The Oaktree is a fully functional a la carte restaurant at TAFE Gippsland's Bairnsdale campus that opens for lunch every Thursday during school terms and is, most weeks, fully booked or very close to it.
Members of the public are invited to make a lunch booking at the Oaktree by calling 5152 0741.
---
For all media-related enquiries, call;
Neil Lawson - Communications Coordinator, TAFE Gippsland
Phone - 0419 425 804
Email - nlawson@tafegippsland.edu.au or news@tafegippsland.edu.au