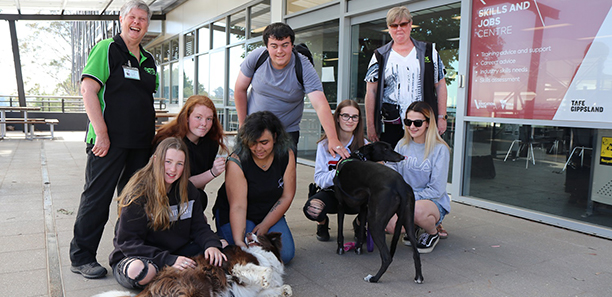 Bairnsdale VCAL students are more focused, less anxious and concentrating harder and the reasons are walking around on all four paws.
Therapy dogs Lucy, Lola and Walter, from Playful Paws, are three delightful additions to VCAL classes this semester in a trial to see if there are benefits to student learning, motivation and emotional support in having the pets in the classroom.
TAFE Gippsland's Disability Liaison Officer, Ms Beck Stevens, said three VCAL classes along with the Certificate 1 in Transition Education students were taking part in the one-term trial.
"Referrals received via the student services portal from teaching staff, and self-referrals from students, helped identify groups of students who are seen as being vulnerable at TAFE Gippsland," Ms Stevens said.
"Vulnerable in the sense that these students are at higher risk of mental health issues, dropping out of the education system and more likely to experience poverty, social exclusion, and family violence.
"So we contacted Playful Paws to see if we could trial the therapy dogs and measure any benefits of having the dogs present in the classroom for those at-risk cohorts," Ms Stevens concluded.
Playful Paws Founder, Ms Megs Hopman, said that when TAFE Gippsland contacted her, she 'jumped at the chance'.
"It's such an awesome opportunity to show the amazing benefits therapy dogs can have on student wellbeing and to showcase our training program, which is based on current international standards," Ms Hopman said.
"Dogs are such a vital part of our society and they are the best people-readers, so they have the ability to identify when we're not feeling the best; our dogs are also trained to offer hugs, tricks or just simply to be there."
The therapy dogs have attended Bairnsdale campus on numerous occasions since October and data has been collected on how staff and students feel about the dogs attending class each week.
Beck Stevens said the early indications from collected survey data are 'promising'.
"We still have some more data to analyse, but in general terms, we are seeing happier and more engaged students," Ms Stevens said.
"The reactions have been largely very positive and both our students and staff groups are keen to have the dogs back in 2020.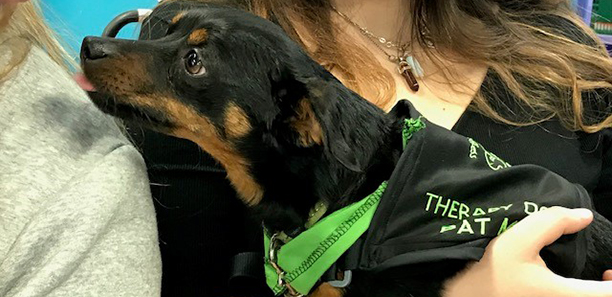 ---
For all media-related enquiries, call;
Neil Lawson - Communications Coordinator, TAFE Gippsland
Phone - 0418 425 804
Email - nlawson@tafegippsland.edu.au or news@tafegippsland.edu.au