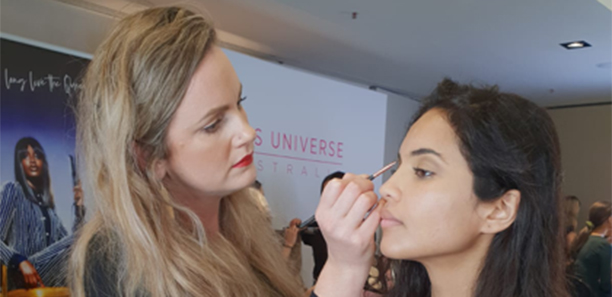 Former TAFE Gippsland student, Rose Lane, is celebrating an amazing few days as the chosen make-up artist for the winner of the 2019 Miss Universe Australia competition.
Rose, from Darnum in West Gippsland, worked with Priya Serrao, who was crowned Miss Universe on Thursday 27 June at the Sofitel Melbourne on Collins.
"I was so happy for Priya; I just couldn't believe I was lucky enough to do her make-up," Rose said.
"I was absolutely lost for words; it was just the most overwhelming feeling of happiness when she won."
TAFE Gippsland Make Up teacher and mentor, Alarna Bell, said she is 'super proud of Rose' who completed her Certificate III in Make-Up in 2018.
"Rose was also Priya's make-up artist at Tuesday's pre judging, and as a result of her incredible work, Rose was personally chosen by Priya to do her make up for the final night," Alarna said.
"I could not be more proud; she worked incredibly well under pressure and to look across the make-up room that was full of accomplished artists and to see one of our TAFE students, that only graduated last year, perform the work she did was something I will never forget."
Alarna, a teacher at Traralgon campus, is herself closely linked to the Miss Universe Australia competition as the official Director of Makeup as well as a National Judge for the competition. She also travels internationally with her Miss Universe Australia responsibilities.
For more information on Hair and Beauty training courses at TAFE Gippsland, call 1300 133 717 or click here to visit our website.