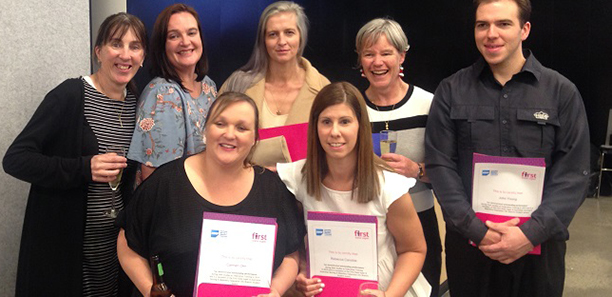 TAFE Gippsland Health students claimed prestigious Australian Nursing and Midwifery Foundation (ANMF) awards in late 2019.
The ANMF and Health Super organisations offer student nursing awards each year, for students that are 'outstanding graduates' and have demonstrated 'excellence in nursing' during their Enrolled Nursing (EN) training.
TAFE Gippsland nominated students from each campus and key staff attended the annual awards in December to support and congratulate the students.
Michelle Mason-Woods, Head of Department (Health Studies), said the recognition is both a great opportunity and a reward for the students.
"Our students have worked hard throughout the 18-month course and it's great to see them rewarded for their efforts," Michelle said.
"John Young (Warragul) will study a Bachelor of Nursing at Federation University next year and Rebecca Canobie is thoroughly enjoying her role as an EN in Aged Care at Trafalgar and is looking forward to furthering her skills in Palliative Care.
"Carmen Olm (Leongatha) has successfully gained a position with Gippsland Southern Health service as part of the newly formed Aged Care team, securing a part time position and Julie Ann Thomas (Bairnsdale) is working as an EN in Aged Care and considering further study."
Michelle Mason-Woods said the TAFE students were nominated for their outstanding effort, mostly because they "embodied the spirit of nursing; hard work, commitment, a can do attitude and a willingness to learn and help others".
"Although academic achievement is important, it was not the only factor in deciding to nominate these students," Michelle said.
"TAFE Gippsland is very proud of its reputation for exemplary training in Nursing and we are delighted to see the results for these students."
Thanks to Cathy Almond for this article
---
For all media-related enquiries, call;
Neil Lawson - Communications Coordinator, TAFE Gippsland
Phone - 0419 425 804
Email - nlawson@tafegippsland.edu.au or news@tafegippsland.edu.au