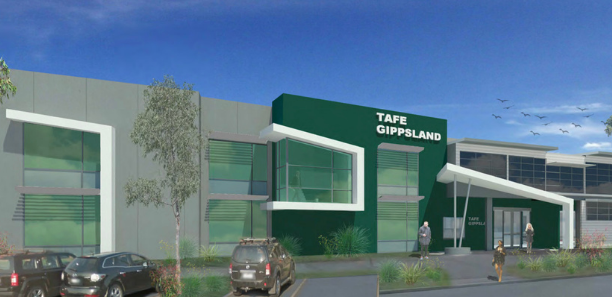 TAFE Gippsland's Warragul campus will see major redevelopment works begin this month with the appointment of a construction partner for the $6.25 million project.
With significant funding support from the Victorian Government's TAFE Asset Maintenance Fund announced in September 2020, initial site works at Warragul campus began in late 2020 and the project will be completed in late 2021.
Victoria's Minister for Training and Skills, The Hon Gayle Tierney, has today announced the appointment of Becon Constructions to oversee the main building works at TAFE Gippsland's Warragul campus.
TAFE Gippsland's chief executive, Grant Radford, welcomed the Minister's announcement, saying the redevelopment works at Warragul will deliver significant improvements to the Queen Street campus.
"Our Warragul campus upgrade works will enable the expansion in our delivery of vocational training courses to match local industry skills and community needs," Grant said.
"With its central location, the upgrade will deliver a better student experience in fit-for-purpose facilities and will ensure TAFE Gippsland is well placed to cater for increased demand for education and training specific to the Warragul and Drouin peri-urban growth corridor."
Grant also said that the current growth in vocational training in Baw Baw Shire is great news for the West Gippsland region, and it will assist TAFE Gippsland in attracting new students while also ensuring all current staff and students have access to the first class facilities they deserve.
"Specifically, the upgrade will deliver new high quality specialist training spaces to accommodate growth in courses such as Nursing and Early Childhood Education, and it will add to existing general-purpose training spaces, along with refurbished staff accommodation and a new campus entrance," Grant said.
The redevelopment works begin in earnest from this week and campus staff have been advised of a number of organisational and parking arrangements relating to campus attendance.
Completion of the works program is expected in December 2021.