At the heart of Australia lives one core value — mateship. Helping out a mate is a central theme to Australian culture, and what better way to get involved than to pursue a career helping others within your community. This article explores the importance of community service work and what it means to be employed as a support worker. With a responsibility to your community comes an extensive range of tasks but an even larger range of opportunities. Explore the community services sector, with TAFE Gippsland detailing the steps and pathways you can take to this rewarding and meaningful career path.
What is Community Services?
As one of the largest industries within Australia, community services encompasses various sectors and services designed to support the community in multiple ways. This support can involve financial, medical, residential and social assistance for those members of the public experiencing poverty, hardship, discrimination and any number of other disadvantages. These services exist to provide free or reasonably priced support and may be offered by any level of Government or by private non-government organisations such as Lifeline or Salvation Army.
Support providers can supply these services in many ways, but at its core, community services depend on the employment of trained and compassionate individuals known as support workers.
What is a Community Support Worker?
A community support worker may work within any number of support roles for individuals with an increased need for assistance, such as the disabled or elderly. This variety in employment opportunities is directly reflected in the projected employment number within Australia as the ABS Labour Force Survey, 2018 projects a strong growth of 245,000 opportunities in 2023, up from 175,800 in 2018. Unfortunately, there will always be those who need extra support within the broader community. Still, through the robust Australian Health Care and Social Assistance industry, community support workers can attend to these needs. Now more than ever, with an increasing number of vulnerable people in the Australian community due to the pandemic, we need the support of community workers to bolster the networks that keep our community safe and thriving.
So what are the duties and responsibilities of a support worker?
Housekeeping assistance through the completion and guided instruction of household tasks such as cleaning, grocery shopping and meal preparation
Paperwork duties by assisting clients with filling out forms as well as documenting client health and progress
Medication management and administration
Personal care and hygiene assistance
Emotional Support and counselling services collaborating with client doctors and therapists
Transportation assistance
Providing encouragement and resources for the development and cultivation of hobbies and goals
Providing health support through rehabilitation and exercise regimes
Community support workers can employ these tasks and many others in any number of settings, including individual support or support through broader services such as care homes or community programs. However, working as a community support worker requires more than just the ability to complete practical tasks.
Skills of a Support Worker
To complete the many tasks required of them, support workers need a broad range of skills fostered through the many community service courses offered at TAFE Gippsland. These skills include, but are not limited to:
Professionalism: maintaining a professional attitude is vital in an emotionally charged field like community service.
Communication: being able to practice active listening and communicate clearly about sensitive topics.
Empathy: practising and expressing empathy to sensitive and difficult situations.
Leadership: taking charge and ownership of your work as a community support worker and displaying the ability to lead planned activities.
Problem-solving: adapting your communication and approach to different situations and needs.
Time management: planning and managing client health and improvement activities and regimes.
Patience: displaying patience and understanding to client development and progress, being empathetic to their needs and difficulties.
In Addition to these soft skills, seek.com reports that the top skills employers are looking for when hiring community support workers include a First Aid Certificate, NDIS Worker Screening Check and a Driver's License. However, formal education is one of the best qualifications you can have when looking for a job in the community service sector.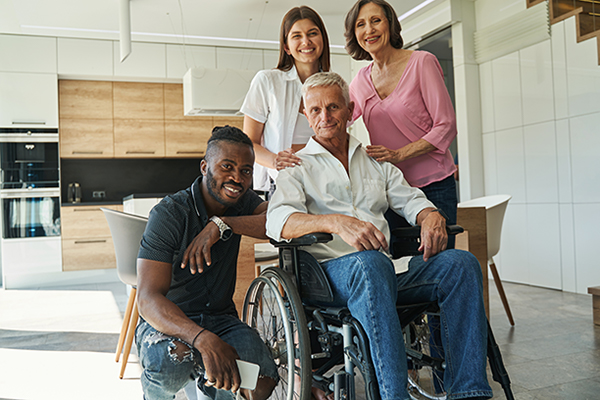 Community Services Courses
At TAFE Gippsland, we offer an extensive range of courses and certifications to prepare you for any form of support work you choose to pursue. According to the Department of Employment's Job Outlook, 21.7% of employed workers possess a Certificate III or IV qualification and 25.7% at a Bachelor level, meaning that a TAFE qualification substantially improves your chance of progressing within the community service field.
The majority of our community service courses are offered under the Free TAFE program (apply today to check your eligibility) and include:
Certificate IV in Community Services

Taught over 11 months at our Warragul, Bairnsdale and Traralgon locations, this course also offers an online delivery method (with on-campus workshops), helping you gain vital skills such as need assessments, crisis responses, diversity training and mental health education.
Not only will this course open up a large pool of opportunities, but it also enables you to pursue further study in the Diploma of Mental Health, Diploma of Alcohol and Other Drugs and Diploma of Community Services (with either the case management or forensic/statutory stream specialisation).
To enter into this course, you must complete a Language, Literacy and Numeracy test, complete a Pre-Training Review and show proof of a Year 11 pass or mature age, clear Police Check, clear Working with Children Check and valid driver's license.

Certificate IV in Community Services (Traineeship)

Delivered over 11 months at our Warragul, Bairnsdale and Traralgon locations, this certificate offers the option of work-based learning through a traineeship with the addition of online delivery (with on-campus workshops). The learning goals for this course are the same as the purely school-based Certificate IV in Community Services with the simple addition of work experience. The further education outcomes and entry requirements remain the same for this course.

Diploma of Community Services Case Management Specialisation

Suppose you're looking for a more extensive education with employment opportunities in advanced community service positions such as care, case and service coordinator positions. In that case, you might consider a Diploma of Community Services. Delivered online over 18 months, the Diploma of Community Services with a specialisation in Case Management offers learning outcomes in case management supervision, workplace debriefing and support facilitation vital to a career as a Case Manager.
To apply for this course, you will need current employment in the Community Service sector, a minimum age of 18 years, a clear Police Check and a clear Working with Children Check.

Diploma of Community Services Forensic/Statutory Stream (ACWA Accredited)

Alternatively, this course offers a specialisation in Statutory & Forensics and Child, Youth and Family Welfare. Delivered over two years at our Traralgon and Warragul locations through online methods (with on-campus workshops), this course enables you to pursue a career in the youth and family's sector. Potential career paths within this sector include Community Care Manager, Family Services Coordinator and Support Facilitator.
The requirements for admission into this course include a Language, Literacy and Numeracy test, Pre-Training Review, minimum Year 11 pass or mature age, clear Police Check, clear Working with Children Check and a valid driver's license.
If you are interested in any of these courses, consider enquiring by clicking on any of the hyperlinks above or getting in contact with our Skills and Jobs Centre to receive assistance in understanding the different pathways available to you.
Other Community Service Jobs
As a significant contributor to the Australian economy, with a $79.5 billion gross value, the health and community services sector has no shortage of opportunities. With a qualification in community services, you can pursue any number of careers such as:
Health Education Officer: Earning an average of $1,876 per week (according to JobOutlook), community and health officers focus on the provision and implementation of strategies for healthy lifestyles as well as awareness around health-related issues.
Welfare Support Worker: Specialising in social welfare matters, welfare support workers offer information and advice on any number of issues to those in need. This pathway has a strong projected future growth with a potential of 73,300 workers in 2025, up from 62,200 in 2020.
Service Coordinator: Also known as a Health and Welfare Services Manager, this role involves coordinating and administering health and welfare programs, offering an average weekly pay of $2,148 and strong prospects, according to JobOutlook. This career outcome is more suited for those who complete the Diploma of Community Services.
This list consists of just a tiny handful of the opportunities that will become available upon completion of your qualification with TAFE Gippsland. The possibilities to work within your community doing meaningful work are limitless with the right qualifications and skills. If working with those who need help sounds like a fulfilling career to you, and you feel that you're a patient and dedicated worker, consider applying for one of our community service courses and diving into making a better future for yourself and others!