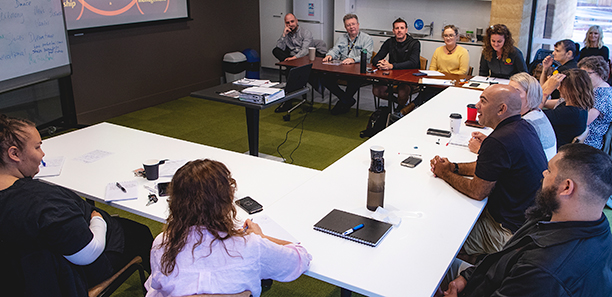 Over the past two years, TAFE Gippsland and the Gippsland and East Gippsland Aboriginal Co-Operative (GEGAC) have collaborated to create and deliver customised management and leadership qualification for GEGAC staff. The collaboration also delivered training to the GEGAC Academy cohort and other GEGAC staff regarding compliance.
The collaboration was titled Building Workforce Capacity.
The main accredited qualification delivered under the collaboration was the Diploma of Leadership & Management (BSB51915), which saw up to 34 staff engaged in the first year alone. The non-accredited training delivered in conjunction with the Academy program saw 91 enrolments and the compliance component (First Aid/CPR) attracted 101 participants.
The programs have contributed to building GEGAC's workforce leadership capacity and increase the advocacy skills of staff on behalf of the local East Gippsland Aboriginal and Torres Strait Islander community.
The two local Gippsland organisations continue to work closely together to create and deliver the customised training programs. Key personnel contacts within TAFE and GEGAC were identified very early and these contacts work tirelessly to provide advocacy for the collaboration, building strong cohesive relationships and importantly to create an understanding of each other's business needs. Defining the roles and authority levels within each organisation ensures all lines of communication are fluent, direct and clear.
The TAFE Gippsland / GEGAC partnership has been captured in a short video presentation focused on a theme of transformation; understanding the unique needs of an organisation and developing a customised training program to match those expectations.
---
For all media-related enquiries, call;
Neil Lawson - Communications Coordinator, TAFE Gippsland
Phone - 0418 425 804
Email - nlawson@tafegippsland.edu.au or news@tafegippsland.edu.au