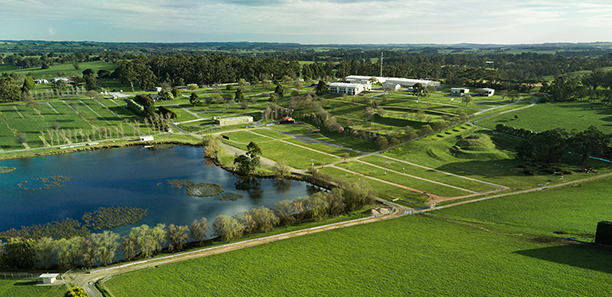 TAFE Gippsland and Lardner Park have joined forces to establish a strategic partnership in 2020.
The partnership will see TAFE Gippsland positioned as the preferred education and training partner for Gippsland's largest event venue and the home of Farm World, Victoria's premier regional agricultural field day.
TAFE Gippsland chief executive officer, Mr Grant Radford and Lardner Park's chief executive officer, Mr Craig Debnam, said the partnership will, "enhance the alignment between our organisations by providing greater exposure and customer experiences to our collective clients".
Mr Radford said the partnership will also assist in growing the provision of high quality training in the vital food and fibre industry across the Gippsland region
"Lardner Park will play a key role in connecting local industry with our TAFE Institute through a series of events and engagement activities, including the well-known flagship event, Farm World and the annual Steer Trial competition," Mr Radford said.
"TAFE Gippsland's Agriculture students will also have access to Lardner Park's first class facilities for specialised training as part of their studies."
Mr Radford said further opportunities are also being explored by the two organisations for students studying in a range of academic disciplines from business to hospitality.
"We are delighted that TAFE Gippsland is now the principal education and training provider within the strategic partner category with Lardner Park, and we will certainly be exploring additional training opportunities for Gippsland students," he said.
"At TAFE Gippsland, we have the specialist teachers and training facilities that support sectors such as Maritime, Conservation & Land Management, Forestry, Agriculture, Dairy Production and Horticulture."
TAFE Gippsland is currently preparing for the 2020 mid-year intake campaign for the important Agriculture and Food and Fibre sector. Click here for more information.
---
For all media-related enquiries, call;
Neil Lawson - Communications Coordinator, TAFE Gippsland
Phone - 0419 425 804
Email - nlawson@tafegippsland.edu.au or news@tafegippsland.edu.au