In the ongoing pandemic and subsequent lockdowns, attention has been increasingly drawn to the mental health of the Australian people. According to data collected by the Australian Bureau of Statistics, you'd be hard-pressed to find someone in your immediate social circle who hasn't needed mental health support, with one in every five Australians experiencing mental illness.
Now more than ever, we need better support for those who have mental health issues, as the recent pandemic threatens to exacerbate symptoms. Today we'll look at the many facets of mental health work and the overarching importance of quality mental health support within Australia. Explore the pathways offered at TAFE Gippsland to break into this rewarding and fulfilling career path boasting many opportunities.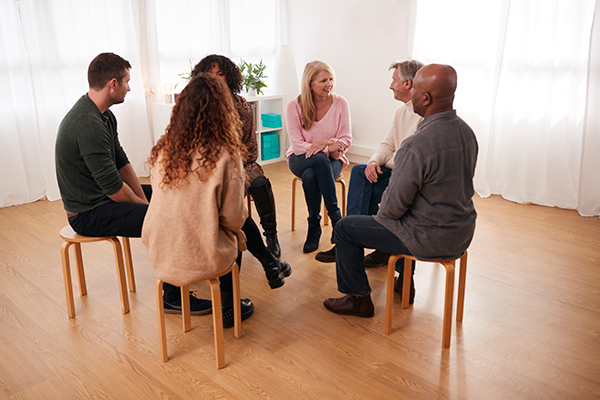 What is Mental Health?
You don't need to have a mental illness to benefit from working on your mental health, with mental health defined by the World Health Organization (WHO) as:
"A state of well-being in which an individual realizes his or her own abilities, can cope with the normal stresses of life, can work productively, and is able to make a contribution to his or her community."
Put simply; mental health is the wellbeing of your mind and all related cognitive and emotional behaviours. Mental health can be impacted by numerous factors resulting in mental illness, such as:
Genetics - Genetically inherited mental illness.
Substance Abuse - Excessive use of alcohol or drugs.
Childhood - Instances of abuse or neglect in childhood.
Adult Trauma - Traumatic situations or stressful circumstances such as domestic violence or social isolation.
Personality - Feelings of failure or discomfort exacerbated by personality traits.
Biological - Hormonal changes or medical conditions such as PCOS can exacerbate mental illness.
Essentially, mental illness can affect any of us for any number of reasons. It's because of this that good mental health support is as important as good physical health support. Mental health workers can help treat mental illness actively and preemptively by establishing strategies and support networks.
What does a Mental Health Worker do?
Working in mental health can include developing and employing many different strategies depending on the mental illness in question. There are many different ways mental illness can display itself with common conditions such as depression, anxiety, schizophrenia, and many more. Because of this, it's essential that we have mental health workers to accurately respond to different issues, with the training to identify the best approach possible. Due to the many pathways offered within mental health, a mental health worker could be responsible for any combination of the following:
Counselling and therapy sessions
Administrative tasks for client records
Regular check-ins on clients to monitor and assess their progress
Participation in community groups and social services
Helping direct clients to helpful resources
Developing treatment plans and approaches
A mental health worker will generally cooperate with psychiatrists, psychologists, doctors, and nurses to help maintain a client's mental health plan. Completing a qualification in mental health through TAFE Gippsland can see you working in various roles, including:
Community Rehabilitation Worker
Community Support Worker
Outreach Officer
Assistant Community Services Worker
Welfare Support Worker
Mental health qualifications can also improve your skillset if you already work in health, arming you with a more comprehensive understanding of client needs and opening more opportunities within the Australian job market.
Mental Health in Australia
With approximately 45% of the Australian population having a mental illness in any given year, Australia serves to benefit from improved mental health services. This is reflected in the Australian Government's 2021-22 Federal Budget, which has been announced to include a $2.3 billion investment into the National Mental Health and Suicide Prevention Plan. These figures alone hammer home the importance of mental health services in Australia and the unbridled potential offered to those who choose to pursue a career helping those with mental illness.

Access to quality mental health treatment improves the mental fortitude of approximately 75% of people admitted to the public sector. These statistics are vital to consider in the context of the current pandemic, where the health of countless thousands across the globe is challenged daily by the pressures of COVID-19 and its impact on health, financial stability and global security. Because of these recent developments, passionate and dedicated mental health workers are needed more than ever.
How to Become a Mental Health Worker
Becoming a mental health worker at minimum requires a formal qualification. Still, it also requires a large amount of passion and valuable soft skills to perform well, such as:
Social Perception: Being able to assess and understand client needs, difficulties and reactions through empathetic observation and communication.
Active Listening: Practicing active engagement and attentiveness when listening to a client. This soft skill involves clarifying the information at natural intervals and engaging through questions and responsiveness.
Communication: Patience, compassion and confident communication skills are essential when working with others.
Strong Literacy: Strongreading and writing is vital for understanding and relaying information.
Problem Solving: Applying critical thinking to assess complex situations with various solutions suited to individual client needs.
With these soft skills, the only thing between you and a budding career in mental health is the appropriate qualification. This qualification should be, at minimum, the Certificate IV in Mental Health, which will prepare you to for an extensive range of career pathways within the mental health sector.
Mental Health Courses
TAFE Gippsland offers various pathways into health and community services, but we'll look at the best courses for direct progression into mental health work for this article. TAFE Gippsland offers two pathways into the mental health sector:
Certificate IV of Mental Health: If you want to jumpstart your career in the mental health sector and get into the workforce quicker, this certificate offered by TAFE Gippsland might be for you. The Certificate IV is delivered online over 15 months (with on-campus workshops). In the Certificate IV, you'll get to learn a range of skills taught through workshops and expert teaching resources such as:
Crisis response
Ethical work practices
Working in the context of alcohol and other drugs
Promoting cultural safety
Additionally, the Certificate IV of Mental Health is offered under the Free TAFE program. Applicants must complete a Pre-Training review, interview, and a Language, Literacy and Numeracy test to be eligible for this course. Applicants must also be 18 years or over with a driver's license and clear a Police and Working with Children check.
Diploma of Mental Health: For a more extensive qualification allowing access to more significant career opportunities, TAFE Gippsland's Diploma of Mental Health will prepare you for a successful mental health career. This course is also offered under the Free TAFE program and is delivered over two years through an online delivery method. In the Diploma of Mental Health, you'll learn various skills through online learning and a 160-hour practical placement such as:
Counselling facilitation
Early intervention
Recovery-oriented mental health services
Providing systems advocacy services
The Diploma of Mental Health requires a Language, Literacy and Numeracy test, Pre-Training Review and interview process. Applicants must also have a Year 11 pass or be of mature age with a clear Police and Working with Children Check.
By completing your qualification with TAFE Gippsland, you'll be taking the first step towards a career in the mental health sector.
Jobs in Mental Health
Following successful completion of a mental health qualification through TAFE Gippsland, you'll not only access further study opportunities such as the Diploma of Alcohol and Other Drugs, but you'll also be qualified to enter the workforce.
According to seek.com, the mental health sector offers stable work opportunities for those interested, with a 15.2% projected growth for mental health support workers in the next five years. Amongst possible career outcomes you might consider:
Youth Mental Health Work
Family Support Work
Community Services Work
Disability Support Work
Welfare Support Work
These career paths offer specialised and targeted support to Australians of various demographics and enable mental health workers to provide refined support and strategies specific to their area of employment.
Mental Health Worker Salary
Due to the various pathways available to mental health workers, salary estimates can vary, but as a standard, seek.com records the average mental health support worker salary at $70,000 per annum. Talent.com further confirms this information with a reported $77,154 per year for entry-level positions and more experienced workers bringing home around $101,336 per year.
The average salary within Melbourne reflects positively on mental health work in Victoria, with the city's mental health work salary totalling at an average of 4.3% higher than the national average.
With competitive wages and a positive job outlook, mental health work is financially rewarding, but the benefits don't stop there. Undeniably, one of the most significant rewards of mental health work is...
Helping Others
The bottom line is, Australia needs mental health workers, and because of that, by pursuing this career path, you can guarantee that you'll be doing meaningful work. Career satisfaction can vastly improve your performance and growth as a professional, and there's nothing more satisfying than giving back to the community and helping others in need.

Working with people in the mental health sector lets you dive into your local community and establish a sense of purpose by making a difference. Working in mental health can lead to a more socially and physically active lifestyle through volunteering opportunities and community outreach projects. Additionally, mental health work expands your perspective and worldview, building upon your character and bettering you as a person.
Mental health work offers a vast range of opportunities and pathways, with stable work opportunities and benefits to your sense of purpose and fulfilment. By pursuing vocational education and training through TAFE Gippsland, you can begin your journey into a career in mental health, developing the skills and knowledge to hit the ground running!