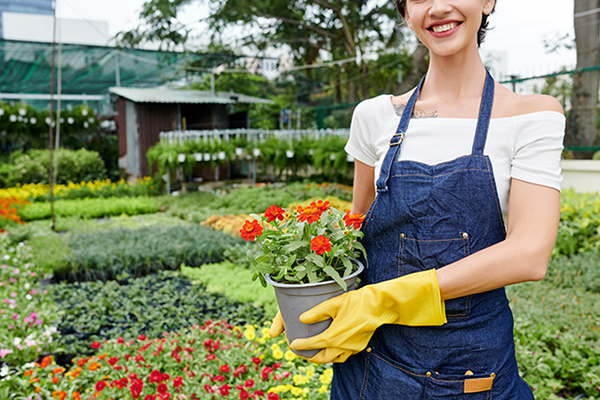 Not too dissimilar to a landscape architect who designs beautiful layouts for public gardens and parks, a Horticulturist goes one step beyond and knows the science behind different plants, flowers and greenery.
A career in Horticulture can be both rewarding and fulfilling for those who have a natural green thumb and an interest in landscaping, as well as plant propagation and breeding, genetic engineering, plant biochemistry and physiology.
Sound pretty cool?
Getting Green with a Career in Horticulture
A career in Horticulture offers diverse opportunities with optimistic career predictions of 32,200 jobs by 2023.
A huge part of our Australian image centres around our dedication to the environmental beauty of our country, with our vast landscapes, dotted with farming operations and carefully maintained parks. It comes as no surprise that Horticulture is a highly valued profession to the Australian economy. Horticulture focuses on creating and maintaining plant arrangements, landscape structures, food growth, and various crop production. As the Australian people continue to become more environmentally conscious, fields like Horticulture continue to grow, providing ample career opportunities for green-thumbs nationwide.
What Does a Horticulturist Do?
A horticulturist's responsibilities are as numerous as the diverse crops they produce, with various career pathways and subsections. Horticulturists generally focus on food and crop cultivation, involving themselves in any number of crops such as flowers, spices, vegetables and fruits. This focus can qualify horticulturists to provide specialist advice on crop maximisation and harvesting techniques to assist farmers in crop production. Additionally, horticulturists specialise in landscaping and plant arrangement, allowing them to work as gardeners and establish aesthetically pleasing and well-maintained outdoor areas.
Alternatively, these professionals may choose to pursue the scientific study of plants and in-depth experimentation of various techniques to develop Horticulture as a field further. Ultimately, Horticulture tasks can vary depending on the horticulturist's area of expertise, but may include:
General Plant Care: Propagation, seeding, fertilising and maintaining crops.
Plant Arrangements: Aesthetic arrangements including a variety of plants or flowers. Ensuring proper irrigation is in place.
Machinery Operation: Understanding of various machinery and tools involved in Horticulture.
Pest Investigations: Examination, identification and allocation of appropriate treatments to remove pests from various crops.
Horticulturists wear many hats, working as advisors, gardeners, nursery hands, researchers and educators. Given the diverse opportunities and responsibilities available in a career in Horticulture, it's also unsurprising that this job regularly gets mixed up with agriculture.
Horticulture vs Agriculture
Horticulture and agriculture are often wrongly used interchangeably, due to Horticulture being considered a subcategory of agriculture. Both sciences use interchangeable techniques, but there are some distinguishing features between Horticulture and agriculture:
Scope: Agriculture has a more extensive range than Horticulture, embodying the study and implementation of crop cultivation and animal husbandry. Not only is the scope of agriculture larger, but the environments agricultural specialists work in are generally more significant in size, with agricultural farming primarily found in large-scale fields and farming operations. Comparatively, Horticulture is restricted to plant studies in smaller-scale environments.
Products: Agriculture may involve producing raw materials such as cotton, wool, wood and leather, unlike Horticulture which focuses on purely plant-based research and practices. Additionally, whilst both fields include food production, horticulturists may produce plants not intended for consumption.
Techniques: Where agriculture employs chemicals to achieve high yield, horticulturists focus on the quality, resistance and beautification of crops to achieve high-quality products.
Ultimately, Horticulture is its own respectable and extensive field, employing skilled Horticulturists around Australia.
Skills and Qualities of a Horticulturist
Becoming a Horticulturist is not as simple as having a green thumb, though it certainly does help. Due to the colourful nature of Horticulture and extensive responsibilities held by these professionals, Horticulturists benefit from many soft skills helping them get the job done. Being a Horticulturist first and foremost requires a love of all things nature and the energy and willingness to get your hands dirty. Horticulturists are energetic and confident people who enjoy working in teams and discussing their field with customers and co-workers.
Suppose landscaping and plant arrangements are your interest. In that case, you may find that you have a creative eye with a penchant for problem solving that can be applied to planning and preparing aesthetically appealing solutions. Regardless, all Horticulturists' will benefit from attention to detail, with the ability to analyse and identify plants and their appropriate techniques being integral to getting the best results from your crops.
If you choose to pursue a more research-focused approach to Horticulture, you'll need strong mathematical and scientific skills. This will allow you to make careful observations on plant developments and experiment with techniques to find better solutions and improvements for cultivation methods.
Horticulture Apprenticeship Wages
Apprenticeship wages in Horticulture can change depending on various factors such as your age, employer, qualifications and hours, but, as a rule, wages are measured under the Gardening and Landscaping Services Award (MA000101). The minimum wage for apprenticeships in Horticulture are roughly as follows:
Year 12 completed, under 21: $12.70 per hour
Year 12 not completed, under 21: $11.45 per hour
Adult apprentice, 21 or over: $18.47 per hour
These rates increase over the years and can be viewed extensively within the linked agreement. You may also want to use the FairWork pay calculator to determine how much you would earn as an apprentice. Additionally, you may be eligible for further financial entitlements such as the trade support loan.
Horticulture Salary
Once you have broken into the Horticulture industry, you can expect to see your pay grow with experience. Horticulturists earn an average salary of $55,145 per annum within four to five years of employment, and the employment opportunities are dependable, with stable to moderate projected growth for nursery hands and gardeners, according to JobOutlook. Additionally, this career has salary growth potential with higher earning horticulturists totaling around $89,000 per annum, according to payscale.com.
Ultimately, Horticulture is a rewarding career path, providing financial stability and substantial career opportunities in a fulfilling position. So how do we make it big in Horticulture?
How to Become a Horticulturist
Luckily, the first step to becoming a Horticulturist is researching and learning about what working in Horticulture entails — so you can tick that off your checklist! At TAFE Gippsland, we offer various pathways into Horticulture with an extensive range of certifications. These include our:
TAFE Gippsland also offers Conservation and Land Management courses and Agricultural studies, offering students various options for studying food, fibre, and conservation. If you're interested in reading more on our available pathways or simply getting in contact, please find all information here.
Horticulture Careers
Once you have a qualification and preferably some industry experience, Horticulture offers many choices, such as Floriculture and Arboriculture. Floriculture, as the name suggests, is employment related to flower growth and propagation for commercial purposes. Studying Horticulture will equip you with the skills to apply for a career as a Floriculture Assistant, letting you work with some of the prettiest plants on the lot!
Other potential career pathways include:
Landscaper/Gardener: Working in parks, gardens and any variety of outdoor spaces to develop beautiful arrangements and maintain their appearance and health.
Crop Worker: Maintaining crops from seed to produce with a variety of tools and machinery.
Arboriculture Assistant: A subsection of Horticulture entirely focused on the growth and care of trees, including the ability to transplant and perform specialist examinations of plant health.
The most common pathways into Horticulture are nursery hand and gardening work, with nursery hands well known for their retail work tending to plants and assisting customers in finding the right plant and maintenance techniques.
The Horticulture industry is a colourful and exciting garden of opportunity, with the chance to work alongside like-minded, enthusiastic individuals in the fresh air. If you're a hands-on person ready to jump into a traineeship or certificate, Horticulture offers diverse opportunities with optimistic career predictions of 32,200 jobs by 2023.
Begin your personal growth as a budding horticulturist today!