Working from home, remote working, flexible working, hybrid work. If you've scrolled through any type of job board, you've probably seen these words. With the rising digital age and the current pandemic, the Australian employment landscape has been rapidly changing, and employees with it. Working from home continues to become the norm for many careers, with one in three Australian workers now regularly working from home, up from the one in 12 recorded ten years ago.
As working from home arrangements become a core part of the job market, you may be wondering how you can secure yourself a job that you can primarily perform from home. TAFE Gippsland offers various study options for those interested in a career where they can work from home. Explore with us some of the job prospects you could pursue from home and what working from home can look like for employees and employers alike.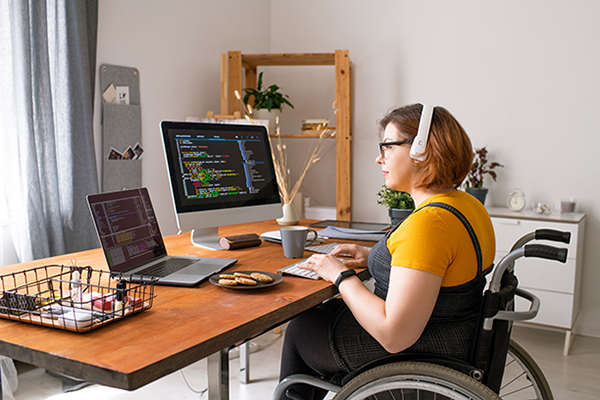 Stay at Home Jobs
Getting up from bed, putting on your slippers and sitting down for work with a fresh cup of coffee would sound appealing to anyone. But is that all that changes when working from home? Working from home can come in various forms, depending on your industry. Some commonly used terminology in the job market is:
Working from home - A catchall term referring to any work done from home for any period of time. This term is the most commonly used.
Remote working - Remote work means working from a distance. While employees can do this from home, they can also do remote work from places like cafes, libraries or, in some exciting circumstances - holiday destinations!
Flexible work - Flexible working circumstances allow employees the freedom to work the hours they'd like when they'd like.
Hybrid work - Hybrid work is a combination of remote and traditional work, giving workers the best of both worlds with access to a shared workspace and the option to work remotely.
Often job listings may use these terms interchangeably, so it's essential to determine your working arrangements with your employer from day one. Depending on the work you do, you may use any number of collaborative or communication software such as BaseCamp, Trello, Miro, Zoom, Slack and Microsoft Teams. This software can enable you to work in live digital environments with your coworkers, whilst some can function as conference software, letting you work "face-to-face". Technology has dramatically bolstered the potential for alternative working environments and is a flexible and growing tool that allows the bridge between home and office. But why all the effort? What's all the fuss about?
Reasons to Work from Home
If staying in the comfort of your own home wasn't reason enough, working from home offers various other benefits, appealing to both employees and employers alike. With 80% of workers in the U.S. showing a preference for flexible working opportunities, the benefits of working from home include:
Longevity: Companies that include remote working arrangements generally value their employees' work performance over arbitrary formalities such as rigid work schedules and environments. This means that staying in a remote job for the long term is more likely to occur. Additionally, remote working is more flexible, offering the ability to work around incidents like frequent absences or juggling personal responsibilities.
Communication Skills: Working in a digital environment requires strong communication skills, so not only will you be exercising this soft skill, but you will also be able to take this experience into future workplaces.
Health: Working from home can benefit both your mental and physical health. With flexibility comes a sense of self-ownership and trust, subsequently reducing stress, as found in a 2016 study from the University of Minnesota. Reducing stress reduces burnout, making remote work beneficial not only for employees but employers as well. Additionally, a reduced commute and physical proximity mean you're less likely to catch the seasonal flu and can get a better sleep in!
Productivity: With regular breaks and a better mindset, remote workers are recorded to be around 20 to 25% more productive when working from home, which is not only a massive bonus for employers but means that as an employee, you're more likely to feel fulfilled and competent in the workplace.
Commute: The average Australian commute time grew by 23% from 2002 to 2017, with the average commute time in cities like Melbourne and Sydney climbing to 66 minutes per day or 4.5 hours per week. Remote work allows you to take back that wasted time.
Working from home isn't just changing the way we work, but the way we live, allowing us a better quality of life through improvements to health and time available. So what kind of jobs offer this freedom?
What Jobs can you do from Home?
The answer is there are heaps of different opportunities available, and the list is only growing. Professionals from all industries worldwide can tap into the digital landscape, with options available in sectors such as entertainment, advertising, education, health, animal services and beauty, to name a few. Additionally, running your own business from the comfort of your home is a promising pathway for many entrepreneurial Australians. If you're interested in working from home, you could consider jobs such as:
Writer: If you're a quick typer and a creative thinker, you might consider working as a freelance or professional writer, partaking in research tasks, drafting and proofreading for any number of clients online.
Accountant: Accountants are vital players for businesses and individuals alike, with a good accountant helping make sense of complex paperwork and the confusion of tax time. If you're good with numbers you might consider working as an accountant, offering your services online.
Marketing Assistant: Sink your teeth into a career in marketing, with experience writing and editing vital to this career. If you've seen a business posting to any social media, chances are, a marketing assistant was behind it!
Massage Therapist: Setting up shop from home can be the perfect way to start your business before you have a commercial space.
Dog Grooming: If you love animals and don't mind getting your hands dirty, running a dog grooming business from your home could be your ticket to a thriving business.
This is just a snapshot of the remote working market, with numerous more roles adapting to digital platforms. Additionally, as shown, many careers can start from the home, with more traditionally hands-on businesses only serving to gain from the freedom and control offered to entrepreneurs operating from home. Running your own business could entail working on social media management, web development, outsourcing business connections and client management through digital networking.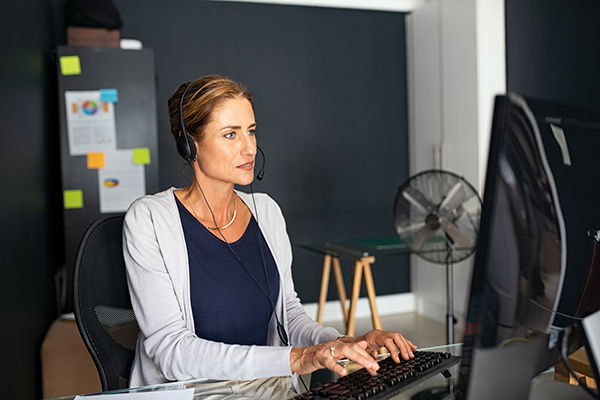 Career Pathways
At TAFE Gippsland we offer pathways into various avenues of employment but we've narrowed it down to three lucrative options you might consider if you're pursuing a remote working arrangement. With potential career development into some of the five most popular roles identified by Flexjobs, a major remote working advertiser, these courses are sure to jumpstart your career:
Certificate IV in Professional Writing and Editing

If you've got a penchant for writing and a creative streak this certificate may be the one for you! Taught online over a period of 11 months, this course will prepare you for a career in writing, with skills in creative, vocational and copywriting. The only requirement for entry is a telephone or face-to-face interview as well as a 1000-word writing sample.
Upon successful completion of this certificate you will be equipped with the skills to pursue a career in any number of flexible roles such as freelance writing, creative writing and trainee journalism. This certificate also opens up pathways into the Diploma of Professional Writing and Editing offered at external educational institutions.

Certificate IV in Business

If you're more interested in a leadership or entrepreneurial pathway, you might consider a Certificate IV in Business. Currently being redeveloped for mid-year application in 2022, this 12 month course offers an in-depth view into the inner workings of a functional workplace and an understanding of marketing activities and strategies. For updates on this up-and-coming training package, send in your contact details for enquiry here.
Completing a Certificate IV in Business opens up opportunities in administration and team leading roles offered in various industries and flexible working arrangements. This certificate also opens pathways to the Diploma of Business and Diploma of Leadership and Management offered through TAFE Gippsland.

Certificate IV in Accounting and Bookkeeping

For those who have a penchant for crunching numbers, this certificate will push you towards a flourishing accounting career in any number of industries. This course is offered under the Free TAFE program and is delivered on-campus over 18 months. The only requirement for this course is a reliable computer and internet connection.
Upon successful completion of this course, you will be able to pursue accounting and bookkeeping roles for any number of organisations such as health care, education, local government and retail. You can also work towards registration as a BAS Agent. TAFE Gippsland also offers further education and advancement with the Diploma of Accounting.
Pursuing a new course can be daunting, and a new career even more so, but working from home offers flexibility, freedom and a flourishing future!
The Future of Work
So what does the future of remote work look like? And can we guarantee that working from home is here to stay? Well, according to a study by Upwork, the only way is up, with 73% of all departments projected to have remote workers by 2028. Furthermore, 80% of large corporations plan to expand their flexible workforce. Additionally, big players like Buffer, Zapier, Hubstaff, Gitlab and Twitter are already pioneering 100% remote workplaces.
The benefits to employers don't only stop at a proven increase in productivity, with Forbes reporting savings of $15 million in real estate costs to American Express due to flexible working arrangements. The implementation of flexible working offers companies a broader employment pool to select from, allowing those who are located in remote areas or alternative circumstances the opportunity to broaden their horizons. Everybody wins!
Setting Up a Home Office
Now before you get ahead of yourself and begin preparing for a life of working from bed, you should consider setting up a productive workspace for both your education and future employment. Working from an area tailored to the task at hand can substantially improve your experience and productivity. Consider doing the following before settling into your new position:
Pick an area: Try to find an area in your home separate from where you sleep, eat and have fun! The mind is a powerful thing, and simply dedicating a space to productivity can set you up for good habits.
Get together your tools: What do you need to complete the job? Sit down and write a checklist of general office furniture and equipment that you'll need to get the job done. This can look as simple as a desk, chair, laptop and lighting. If your skills are more specialised, you may need the tools to match.
Get connected: Ensure that you have all of the online resources you need to get rolling, nothing's more frustrating than a dodgy connection or lost files.
Take care of yourself: Whether it's remembering to take regular breaks, upgrading your chair to something a little more ergonomic or keeping hydrated, remember to step back from work when needed.
These tips don't just apply to remote working, so if you're looking into studying at TAFE Gippsland, it's worth setting yourself up with the right environment for a good study headspace.
Working from home is an exciting new way to approach the workforce in Australia, offering vast opportunities and benefits to those interested. With pathways into various industries and careers, TAFE Gippsland looks forward to preparing our students for a thriving future in remote work.
So get set up and signed up for a flexible future working from home!