Specialists in the food, fibre and conservation industry are in increasingly high demand in today's modern world. As we're faced with new conservation challenges and growing populations, the industry provides a number of diverse and stimulating career options.
At TAFE Gippsland, we offer a range of courses to enable you to enter the industry or build on your existing skills to move up in the workplace. No matter your needs, we can offer you a respected qualification that will improve employability and make you more competitive in the industry.
Hear from Kaylee, one of our Horticulture students
Our Horticulture teacher Katrina on studying with us
This is Phillip who studied Diploma of Conservation and Ecosystem Management with us
Food, Fibre & Conservation Short Courses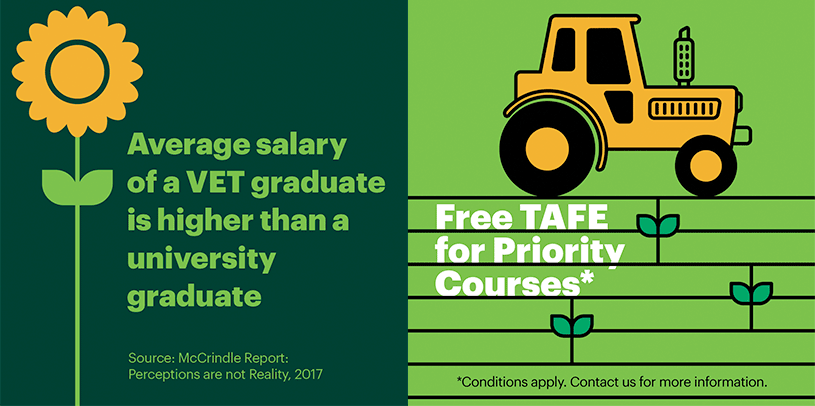 Is agronomy the right fit?
An agronomist is a specialist who can help local farmers improve their operations in one or more of the following ways:

* Collecting and analysing samples of produce, feed and soil

* Giving advice to farmers about improving production of crops and livestock

* Identifying issues related to crop disease, pests and weeds

* Reviewing environmental factors affecting crop production

* Research new technology and advancements in agriculture

* Identifying agricultural problems and researching techniques to solve them

Sound like you? Search our food and fibre courses to learn which one suits you.
Leave your details below and we'll be in touch: